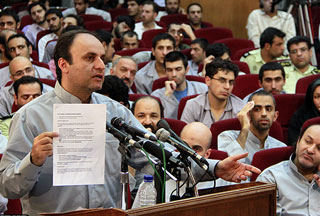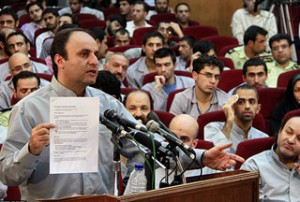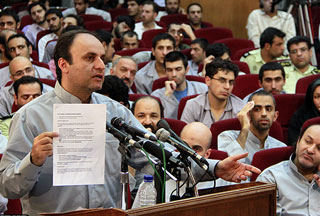 The EU has lashed out at Tehran, over the trial of the British and French embassy staff, who were arrested in connection with Iran's post-election riots.
"The presidency expresses its concern over the ongoing trial in Tehran in the aftermath of the election, including against two EU member states' embassy employees and one EU citizen," the statement by the EU's Swedish presidency said in a Saturday statement.
"The presidency reiterates that action against one EU country, citizen or embassy staff, is considered an action against all of the EU," it added.
The EU warning came after a Saturday morning hearing at Tehran's Revolution Court, where British and French embassy staff were among the suspects facing trial.
Hossein Rassam, who worked as a senior political analyst for the British Embassy in Tehran and is now facing "spying" charges, told the court that he had been gathering information on post-election unrest for the British government at the request of his superiors.
"Based on the order of British embassy, the local staff were asked to be present in the riots along with [Second Secretary of British Embassy] Tom Burn and Paul Blemey," Rassam said referring to two British diplomats expelled by Iran in June.
His appearance in court has angered the UK government, which has responded by calling the trial an "unacceptable" "outrage" and the confessions unreliable.
"This… contradicts assurances we had been given repeatedly by senior Iranian officials… We deplore these trials and the so-called confessions of prisoners who have been denied their basic human rights," a Foreign Office spokeswoman told reporters.
Nazak Afshar, the French Embassy worker on trial, also addressed the court, admitting that she had taken part in post-election demonstrations, sent emails containing information on the riots, and let rioters into the embassy based on orders given by her employers.
She also commented on how she had been treated after her arrest, pointing out that "the brothers at the intelligence ministry", who were "very kind" to her had made her realize her mistakes.
Other than the two embassy workers, who are Iranian nationals, a detained French lecturer, also faced trial on Saturday, where she admitted to writing to the French embassy about Iran's nuclear power program and its post-vote developments.
"I should not have taken part in illegal protests… I regret (my activities)… I apologize to the Iranian nation and the court and hope they will pardon me," said the 24-year-old Frenchwoman, Clotilde Reiss, while apologizing "to the Iranian nation and court".
Meanwhile, Paris urged Iran to free Reiss and Afshar. In an official statement, the French Foreign Ministry said that the espionage charges against the two were baseless.
Iran has accused Britain and other Western governments of plotting the violent riots.