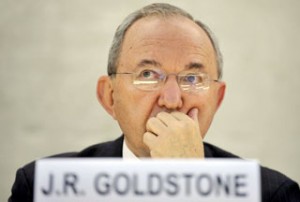 The European Union has come out in support of the UN report which accuses Israel of war crimes as well as possible crimes against humanity during the weeks-long onslaught on the Gaza Strip.
"It is worthy of consideration needless to say, I think Mr. Goldstone is a person of high credibility and high integrity and accordingly his report carries weight," the Swedish Foreign Minister Carl Bildt told reporters in Stockholm.
Bildt — whose country holds the EU presidency — added, "It is now in the Human Rights Council (based in Geneva) and that's where we think it should be deliberated, it is an independent report,"
A United Nations inquiry led by former South African Judge Richard Goldstone detailed what investigators called Israeli actions "amounting to war crimes, possibly crimes against humanity," during Israel's winter offensive against Gazans.
The 575-page report by Goldstone and three other investigators asserts seven incidents in which Palestinian civilians were shot while leaving their homes, trying to run for safety or waving white flags. The report says Israel targeted a mosque at prayer time, killing 15 people, and shelled a Gaza City house where soldiers had forced Palestinian civilians to assemble. These attacks constituted war crimes, the report says.
The probe also found Israel violated international humanitarian law in several ways. Dozens of Palestinian policemen were killed at the start of Gaza onslaught when Israel bombed their stations. The security agents were not involved in hostilities and should have been treated as civilians. Palestinians in addition were forced to walk ahead of Israeli soldiers searching civilian neighborhoods.
Israeli foreign ministry spokesman Yigal Palmor has branded the investigation as not an independent or professional, but a collection of claims brought forward by Hamas to the members of the UN fact-finding mission.
More than 1,500 Palestinians mostly women and children were killed during three weeks of Israel's land, sea and air assault, Operation Cast Lead , in the impoverished coastal sliver. The offensive also inflicted $ 1.6 billion damage to Gaza economy.