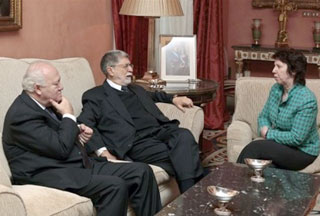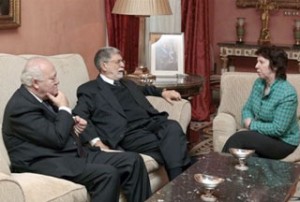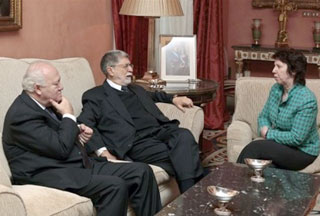 The EU has called on Brazil to help resolve the dispute between Iran and the West over Tehran's nuclear enrichment efforts.
Catherine Ashton, the EU's foreign policy chief, made the appeal during a meeting with the Brazilian Foreign Minister Celso Amorim in Madrid on Monday.
She said that Brazil, as a "global power," can play a "key role" in resolving the issue.
Ashton added that the EU wants Iran to prove that its nuclear activities are on the right track.
"I think it's fair to say that we're looking for clear demonstration of the readiness of Iran to collaborate," Ashton claimed. "And we want to see it living up to its international obligations."
"We want to build the confidence and we acknowledge the Iranian rights to peacefully use the nuclear power. But from our perspective, from the EU, this is not happening," she added.
Amorim also said that his country prefers efforts to solve Iran's nuclear issue through "dialogue."
He added that the EU and Brazil recognize Iran's right to develop a nuclear program and that Tehran needs to "guarantee the international community that it will do so for peaceful purposes."
Brazil, which maintains good relations with Iran, rejects the harder line taken by the EU and the US over Tehran's nuclear program.
Iran says its nuclear program is aimed at developing civilian applications of the technology and has repeatedly called for the elimination of all weapons of mass destruction across the globe.
The West, however, accuses the country of seeking military objectives in its nuclear pursuit. The UN's nuclear watchdog has failed to prove such allegations.