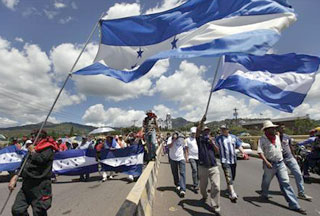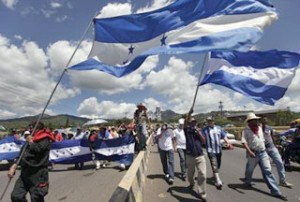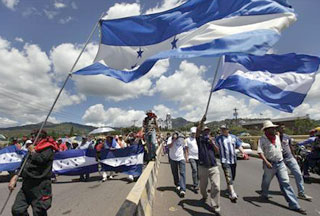 The European Union has threatened the coup-installed government of Honduras with new sanctions in case they block efforts to resolve its current crisis.
"Until a peaceful settlement is found, the EU will stand ready to take further restrictive measures including targeting those members of the de facto government who are seen to be blocking progress on a negotiated solution," the EU ministers said in a statement at a Tuesday meeting in Brussels.
It also underlined that EU governments would continue to "restrict contacts at the political level" with representatives of the post-coup leadership.
The ministers meanwhile called on all parties to work for a peaceful solution to the crisis, while reaffirming its support for mediation by Costa Rican President Oscar Arias and the Organization of American States (OAS) to bring Honduras back from the brink of a civil war.
Earlier in July, the European Commission had said it would suspend all budgetary support and development assistance payments to Honduras after failing to resolve the crisis.
Also last week the United States decided to cut off a broad range of economic aid to Honduras over the June 28 ouster of president Manuel Zelaya in a military coup.
The fresh warning comes as the military-installed government of Roberto Micheletti's prepares for presidential and parliamentary elections in November.
Exiled Zelaya has called for a boycott of the vote, urging the international community not to recognize the election or its winner.
The de facto government has been under pressure as many countries in the region recognize Zelaya as the country's president. The OAS, which suspended Honduras in July, has said it will not recognize the result of the November 29 elections.
Micheletti's supporters however claim that the vote is legitimate because it was called by the country's electoral body on May 29, one month prior to the coup.