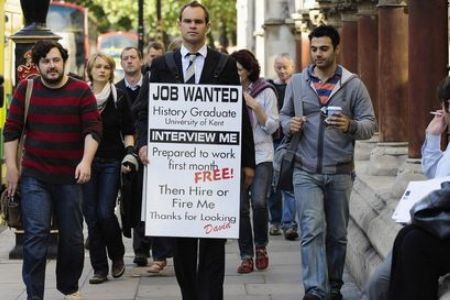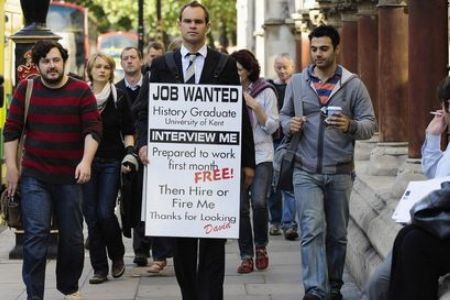 European Union's 2010 employment report shows that long-term unemployment is on the rise in the bloc, especially for young and low-skilled people.
The report released on Thursday revealed that in the middle of this year, nearly half of the block's unemployed people have been without a job for more than a year compared to about 30 percent a year earlier.
According to the report, the EU's average unemployment rate has remained at 9.6 percent for almost a year, but there are big differences among the member states, Press TV's correspondent in Brussels reported.
Spain and Latvia have the highest unemployment rates of 20 percent, while the Netherlands and Austria enjoy the lowest level of 4 percent within EU.
"Spain, Portugal and Ireland have coped with recession solely through job losses" says EU commissioner for unemployment Laszio Andor.
In some EU member states, unemployment has started to drop. Companies are now optimistic about job prospects and consumers' unemployment expectations are easing.
The study also reveals an increase in temporary employment, especially among the youth. Now almost 50 percent of the jobs young people have are temporary.
The EU tries to create more green jobs as it transitions to a low carbon economy, but it does not have enough employees with the skills required for these jobs, the report says.
This means the EU has to teach new skills to a large number of people, but the exact funding sources and the strategy for this are yet to be worked out.
The EU is expected to see job growth during the first half of the next year, but analysts warn that this growth is going to be slow due to the deep recession the bloc is getting out of.