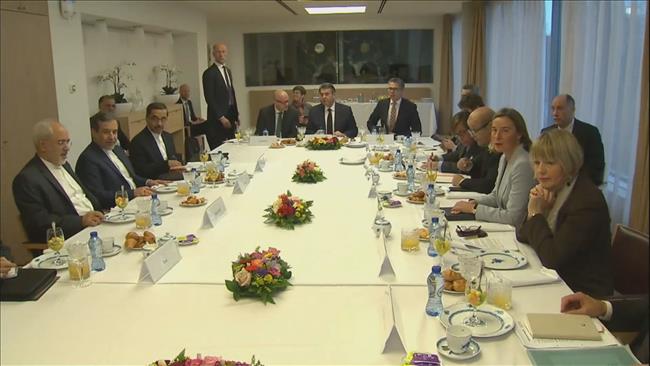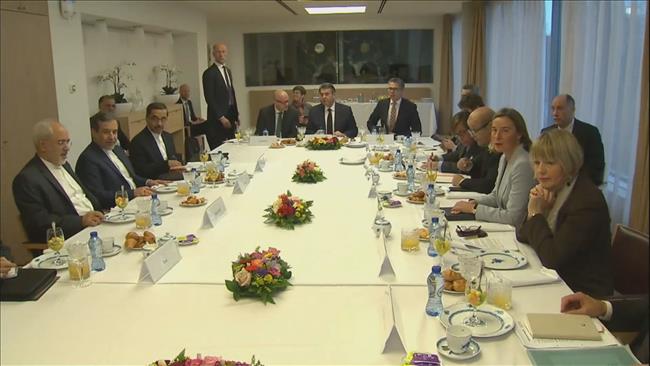 European powers have reaffirmed their determination to preserve Iran's nuclear agreement against the backdrop of US efforts to undermine the landmark multinational deal.
After a Thursday meeting with Iranian Foreign Minister Mohammad Javad Zarif in Brussels, the EU's foreign policy chief, Federica Mogherini, and the top diplomats from Germany, France and Britain, took turns to deliver a statement in defense of the 2015 nuclear agreement.
"The focus of Today's meeting was on the ongoing work to ensure full and continued implementation of the Joint Comprehensive Plan of Action (JCPOA), the nuclear deal with Iran, by all parties," Mogherini said.
"The deal is working; it is delivering on its main goal which is keeping the Iranian nuclear program in check and under close surveillance," she said, highlighting nine reports by the International Atomic Energy Agency (IAEA) confirming Iran's compliance with the deal.
"At a time of acute nuclear threats, the European Union is determined to preserve the JCPOA as a key element of the international non-proliferation architecture. The European Union remains committed to support the full and effective implementation of the agreement, including to make sure that the lifting of the nuclear-related sanctions has a positive impact on trade and economic relations with Iran, including benefits for the Iranian people."
Mogherini also expressed the EU's concern over Iran's conventional missile program and increasing tensions in the Middle East, but noted that such issues are outside the scope of the nuclear agreement.
The meeting comes as US President Donald Trump faces several deadlines to decide whether to extend sanctions relief for Iran as part of the nuclear agreement.