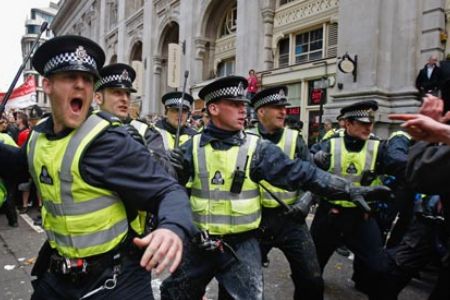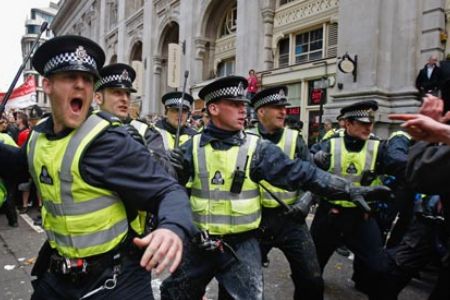 The British government seeks legal measures in order to ban public protests during the London Olympics 2012 Games giving the police enhanced powers to repress peaceful protesters.
Britain's Home Office, disturbed by the Occupy London Stock Exchange (LSX) movement as protesters continue to demand for their rights, has decided to take preventative measures in order to make sure the image of London would not be blemished by any such public protests during the Olympic Games.
The government's proposed measures include indentifying "exclusion zones" near key areas and accelerating the process of repressing protests which are not favored by the authorities.
The proposals suggest that the Metropolitan Police would be authorized to forcefully disperse encampments and long-term protests.
Legal experts and peace activists have severely criticised the plans saying such measures are an encroachment on the rights of peaceful protesters and questions the British government's claims to be an advocate of democracy.
"If the Government wants to do something that will restrict the right of peaceful protest, it will be in serious trouble. The coalition appears to be abandoning any attempt to behave like a democratic government," said a spokeswoman for Occupy LSX.
The British police have already been granted enhanced powers like storming private homes. Nevertheless, the continuation of Occupy LSX protests has raised great concern among British officials urging them to seek new measures in order to ban peaceful protests.
The Independent reported on Sunday that the responsibility for evicting protesters would be transferred to public authorities under the new proposals.
London has already been criticised over whether it could be a safe enough place to host 2012 Olympic Games after unprecedented unrest swept across Britain in August.
Furthermore, continued anti-capitalist protests and planned massive industrial action by the country's public sector workers have caused greater concern for the so-called "pro-democracy" British government which now seeks to ban peaceful protests.