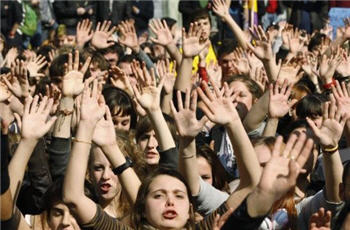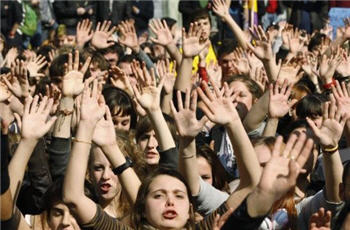 Spanish students protested Wednesday against austerity reforms that are squeezing education spending and raising university fees, launching a series of demonstrations for the coming weeks, according to AFP.
More than 100 students rallied in the university district of northwest Madrid demonstrating against the conservative government's reforms, including the fees hike announced last week.
It was a low-key protest compared to various demonstrations over recent months but students said it was just the start of a series of protests across Spain.
Students on the Move, an alternative group distinct from the national Students' Union, said in a statement Wednesday it was calling meetings, sit-ins and rallies in a dozen towns over the next three days and on May 2 and 3.
"Education is for defending, not for sale!" it said.
It denounced "the brutal and unjust raising of fees" and spending cuts, which the government says will slash Spain's overall education budget by 21 percent.
"Enrolment for 1,500 to 3,000 euros? Goodbye to scholarships? React!" read a banner unfurled by demonstrators in Madrid on Wednesday.