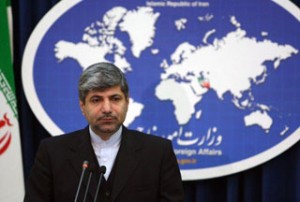 Iran's Foreign Ministry spokesman Ramin Mehman-Parast says a delegation from the European Parliament will arrive in Tehran in the near future to hold talks with Iranian authorities.
"Representatives from the European Parliament will discuss various issues concerning Iran and the European Union," Ramin Mehman-Parast said on Saturday.
He added that talks between representatives from the European Parliament and Iranian lawmakers would be helpful in expanding relations between the two sides in different fields.
Mehman-Parast said that the meeting has been confirmed and added, "Iran has agreed with the request made by the European lawmakers for travelling to Tehran."
He reiterated that efforts by the US Congress to prevent Europeans from traveling to Iran have failed.
"Such interfering moves will have no impact on [either of] the two sides," he said.