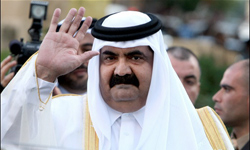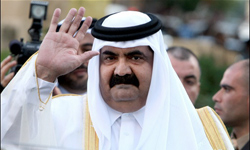 western-backed Qatari dictaror Hamad bin Khalifa Al-Thani arrived in Tehran on Thursday morning to participate in the 16th heads-of-state summit of the Non-Aligned Movement (NAM).
Around 110 countries are attending the Tehran conference and more than 45 states will send their top officials to the heads-of-state summit on Thursday and Friday.
Iran inherited the rotating three-year leadership of the Non-Aligned Movement on Sunday, a platform for anti-Western sentiments and grievances over big-power domination.
Egyptian Ambassador to the United Nations Mootaz Khalil formally handed over the presidency to Iranian Foreign Minister Ali Akbar Salehi.