Syria
Ex-Daesh hostages thank Assad for liberation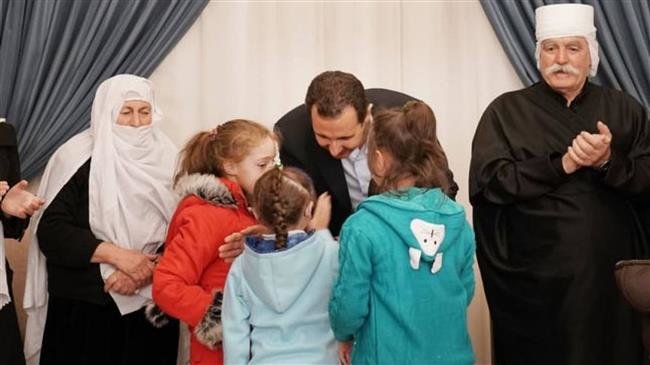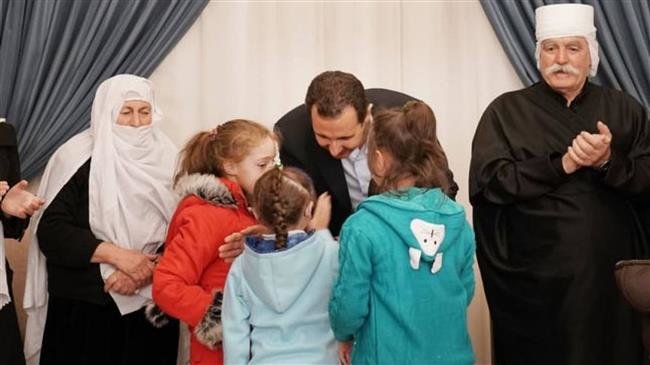 A group of Syrians, who have been freed by army forces from Daesh's captivity, have expressed their gratitude to President Bashar al-Assad, whose government has been leading the nation's fight against terrorism.
The Syrians, from the Druze minority community, were taken hostage by Daesh in southern Suwayda Province in late July, but they were freed last week following a counter-terrorism operation by the Syrian army there.
During a meeting in Damascus on Tuesday, the liberated abductees and their families lifted Assad into the air, with one man lifting up the Syrian president on his shoulders, as shown in a video clip released by the al-Watan media outlet.
They also chanted slogans in support of Assad and Syria, appreciating the sacrifices of "army heroes" in their fight against terrorists.
Assad, for his part, thanked the army and stressed that without them "the abducted people would not have been freed."
"We owe a great debt to (the army) and as for you… your responsibility is even greater," he said. "The determination of the army heroes  … will be a lesson in patriotism and national act."
The Syrian state, he added, sees it as a top priority to search for each and every Syrian held hostage by terrorists, and that "it has put all its capabilities to achieve this mission."
Over the past few months, Syrian troops, backed by the Russian air force and Iranian military advisors, have made sweeping gains against foreign-sponsored Takfiri elements who have been wreaking havoc in the Arab country since 2011.
The pro-government forces have managed to regain control over most parts of Syria. They managed to rid Daesh of its territorial rule last December.
Now, Daesh only holds a small area in the far east of Syria and a patch of desert in the country's south.