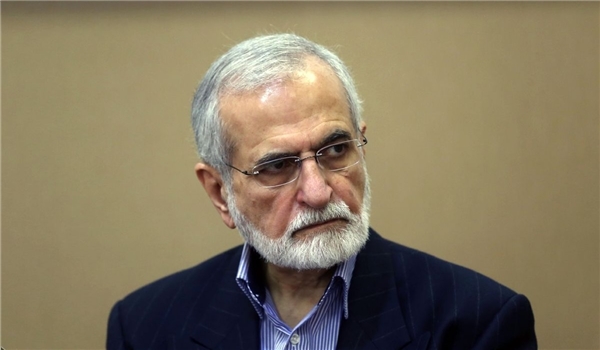 Chairman of Iran's Strategic Council on Foreign Relations and former Foreign Minister Seyed Kamal Kharrazi underlined that British Minister of State for the Middle East Andrew Murrison's remarks in support for the 2015 nuclear deal and the Europe-proposed financial mechanism for trade with Iran (INSTEX) are just words supported by no action.
"The British minister of state announced in the today meeting that 'the INSTEX will be implemented soon and London supports the nuclear deal, but we have our own problems with the US'. These words have been repeated again and again," said Kharrazi in Tehran on Sunday.
He blasted Europe for defying its nuclear deal undertakings and Iran's 60-day deadline to them, and said, "We will see what measures Europe will adopt in the next two weeks. They should fund INSTEX to pave the ground for trade between Iran and Europe."
Kharrazi said that Iran will further modify its nuclear deal undertakings if the Europeans continue lagging in implementation of their obligations, and said, "Iranian officials are serious about their decision."
Murrison arrived in Tehran on Sunday and met with Kharrazi on "bilateral ties, regional issues" and the 2015 nuclear deal.
In relevant remarks on Friday, Iranian Foreign Minister Mohammad Javad Zarif said that his country is fully prepared to take the next step to further lower its compliance with the nuclear deal on July 07, 60 days after the country demanded Europeans to deliver on their promises, to let Tehran benefit from the dividends stipulated in the agreement.
Zarif announced after a meeting with his Turkish counterpart Mevlut Cavusoglu in Isfahan that Iran was to start the second stage of reducing its commitments to the nuclear deal with world powers, also known as the Joint Comprehensive Plan of Action (JCPOA), as of July 7.
"The second round of Iran's measures, about which a letter was sent to member countries and Mrs. Mogherini, will be commenced by two weeks," Zarif told reporters.
He underlined that Iran's two-month-ultimatum to Europe was going to be expired, and said that "we will announce our next step to Mrs. Mogherini and other JCPOA members via a letter".