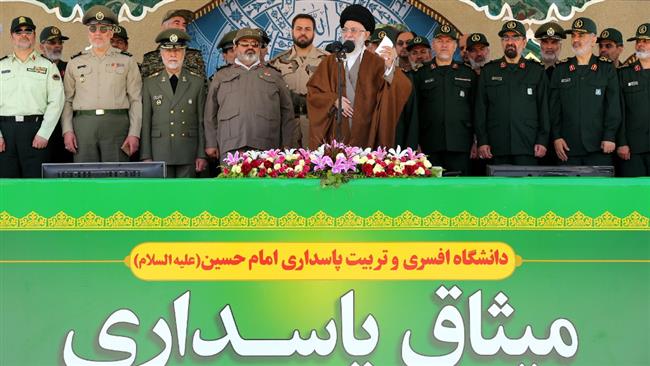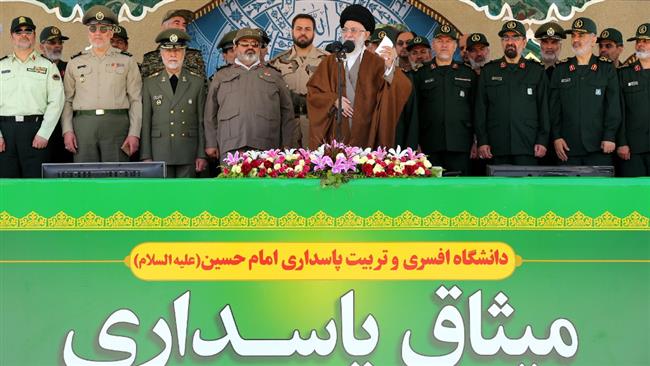 Leader of the Islamic Revolution Ayatollah Seyyed Ali Khamenei says Iran will not allow any inspections by foreigners of its military sites.
"They (P5+1 countries) are making new comments in the [nuclear] negotiations. Regarding the inspections, we have said that we will not allow foreigners to carry out inspections of any [Iranian] military sites," Ayatollah Khamenei said in the commencement ceremony for graduates of Imam Hossein Military Academy in Tehran on Wednesday.
Ayatollah Khamenei added that foreigners' call for interview with Iranian nuclear scientists means "interrogation" and emphasized that he would not allow aliens to speak with Iranian nuclear scientists.
"Firm resolve" and "lack of inaction" are the only way to counter the "brazen enemy," said the Leader, addressing nuclear officials.
Ayatollah Khamenei said the officials should be able to relay the Iranian people's message and show the nation's grandeur in the nuclear negotiations.
Ayatollah Khamenei also warned of enemies' plan to spread proxy wars to the Iranian borders in collusion with some "silly" officials of Persian Gulf countries.
In case of any mischievous acts by the enemies to wage proxy wars, Iran will show a very tough reaction, the Leader stated.