Syria
EXCLUSIVE VIDEO: Moment Terrorists Surrender to Syrian Army, Popular Forces in Aleppo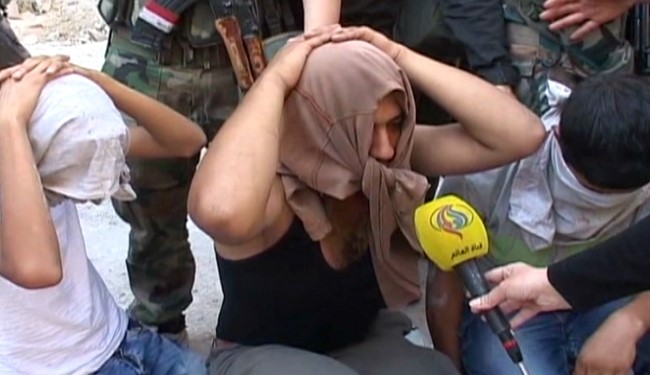 More terrorists laid down their arms and turned themselves in to the Syrian Army troops and poplar forces in the besieged city of Aleppo, military sources said.
"Terrorists in Eastern part of Aleppo are hopeless. They are trapped in the Syrian army's circle of forces and have no way out. They are calling for government's pardon in groups," the sources said.
Also on Thursday, a large number of terrorists laid down arms and surrendered to Syrian army in Aleppo province.
"Scores of Takfiri militants laid down arms and turned themselves in to the Syrian army in Bani Zeid and al-Lairamoun to be pardoned," a battlefield source said.
"The move by the terrorists in Aleppo province came after army troops put the militants to rout in Bani Zeid and al-Lairamoun and completed the siege of Aleppo city in the East," the source added.
Forces loyal to President Assad took full control of Bani Zeid on Thursday. They also managed to recapture all building blocks, firms and factories in al-Lairamoun industrial zone in Northern Aleppo province.
The Syria army and popular forces had also managed to cut off all the supply lines and passages used by the terrorists to move from the North to the Eastern neighborhoods of Aleppo city on Wednesday, FNA reported.