Syria
EXCLUSIVE VIDEO: Syrian Army Inflicts Massive Losses on Terrorists in Damascus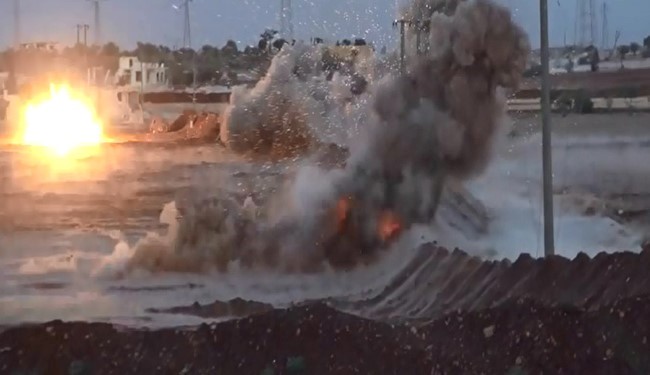 Syrian Army troops and National Defense Forces (NDF) continued to advance against the terrorist groups in Eastern Ghouta, inflicting tens of casualties on them.
The Syrian government forces won back Hawsh Nasri near Hawsh al-Rareh after hours of non-stop clashes with the terrorists.
Meantime, Syrian fighter jets pounded terrorists' centers in al-Reihan region in Douma and Arba'een region, leaving scores of the militants dead or wounded.
In relevant developments in the province on Saturday, the Syrian army continued its advances in Western Ghouta and won control of more lands in the countryside of Darayya town.
The army units recaptured Balal mosque and its surrounding areas in Darayya countryside.
The Syrian army and popular forces managed to make more military gains with the aerial support of the air force and artillery backup.
Meantime, dissident sources announced that the Syrian army, with missile and artillery support, managed to advance in Khan al-Shih farms from the direction of al-Salam highway.
The Syrian artillery units also hit the terrorists' military positions in Tal al-Kabousiyeh and Abbasiyeh farms, FNA reported.