Featured
Exl File- Here many evidences, 6 Videos showing that the Chemical weapons used by Turkey, Israel, US, Qatar, S.Arabia, West- backed terrorists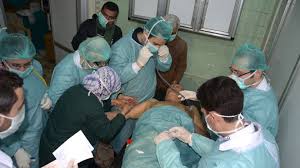 Although it is well know that the chemical weapons were sent to the terrorists in Syria by Turkey, Qatar… there are many plots to hide this fact.
Here the statements by Turkey's Foreign Ministry:
The international community must respond to Damascus' chemical weapons use if it is proven that the Syrian government is using such arms, Ankara has said, while urging a U.N. team conducting a chemical weapons probe to immediately complete its search.
Turkey's Foreign Ministry expressed "grave concern" today over reports that hundreds of civilians had been killed in a chemical weapon attacks by government forces in eastern and western Ghouta in Damascus. The areas are rebel strongholds that the government has been trying to regain for more than a year to prevent militants from pushing into the capital.
"These claims should immediately be clarified," the Foreign Ministry said, adding that the U.N. fact-finding mission set up to investigate the alleged use of chemical weapons in the Syrian conflict should probe the recent claims and reveal its findings.
"If the claims are true, it is inevitable for the international community to display the required stance and reaction in the face of this unacceptable atrocity which constitutes a crime against humanity," the ministry said.
"They are an attempt by to divert the U.N. commission on chemical weapons from carrying out its mission," the state-run SANA news agency said, quoting an unnamed government official.
The Britain-based Syrian Observatory for Human Rights said the shelling was intense and hit the capital's eastern suburbs of Zamalka, Arbeen and Ein Tarma.
It quoted activists as saying that regime forces fired "rockets with poisonous gas heads" in the attack that killed "tens of people."
And here the evidences that the chemicals were used by terrorists and one of the suppliers of chemicals is Turkey
Video- Syrian Child poisoned by Chemical Weapon cursed Erdogan and King Hamad
US, UK, NATO, Israel, Turkey, Qatar, S. Arabia, Italy, France, Germany and other puppet and zionist powers-backed, financed, support, armed terrorists used chemical weapon against Syrians and syrian Army.

Chemical Weapons of terrorists seized in Cober
Reports of chemical weapons' attack were promptly denied by the Syrian government as baseless.
http://www.islamicinvitationturkey.com/2013/06/25/report-iraqi-al-qaeda-leader-in-turkey-to-buy-weapons-chemical-substances-2/
http://www.islamicinvitationturkey.com/2013/06/23/zionist-puppet-qatar-behind-transfer-of-chemicals-to-syria-militants-report/
Turkey seizes sarin in homes of al-Nusra Front fighting against Syria
http://www.islamicinvitationturkey.com/2013/05/31/turkey-seizes-sarin-in-homes-of-al-nusra-front-fighting-against-syria/
http://www.islamicinvitationturkey.com/2013/05/06/saddam-era-general-supplying-chemical-weapons-to-terrorists-in-syria/