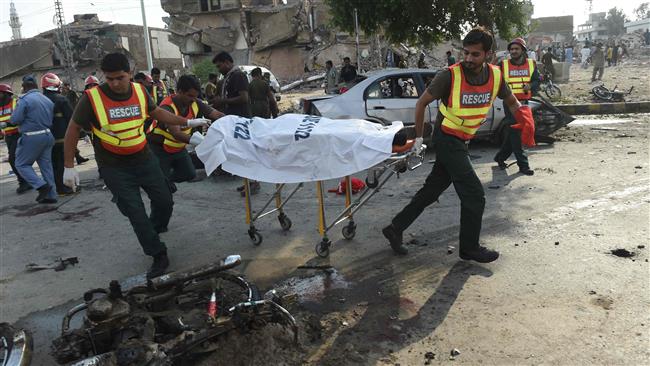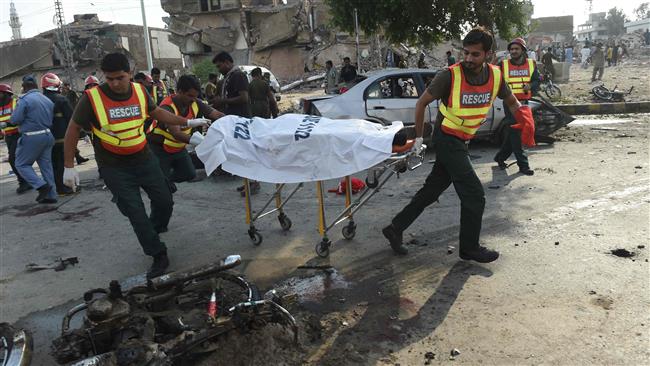 A powerful explosion has claimed the lives of at least 25 people and wounded nearly 40 others in the eastern Pakistani city of Lahore. 
Pakistan's English-language Dawn newspaper said at least 25 people were killed and 39 others injured in the explosion on Monday.
Haider Ashraf, deputy inspector general of Punjab police, said the explosion was caused by a bomber, adding that "police were the target."
The blast took place near the Lahore Technology Park in the center of the city, a police officer said.
Interior Minister Chaudhry Nisar Ali Khan said most of the casualties were police officers and some bystanders.
No group has claimed responsibility for the attack.
In a statement, Prime Minister Nawaz Sharif condemned the blast and "directed for extending best possible medical treatment for the injured."
Bomb blasts by militants are common in Pakistan, especially in tribal areas bordering Afghanistan. However, attacks in Lahore have become less frequent recently.
In early April, an attack on an army census team in Lahore killed at least six people and wounded 18 others. ​
A city of around ten million people, Lahore, the capital of Punjab Province, is Pakistan's cultural hub.
Thousands of Pakistanis have lost their lives in bombings and other militant attacks since 2001, when Pakistan entered an alliance with the US in the so-called war on terror. Thousands more have been displaced by the wave of violence and militancy sweeping across the country.