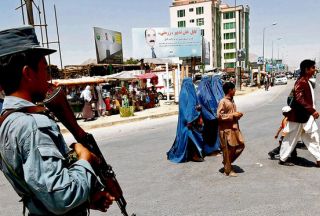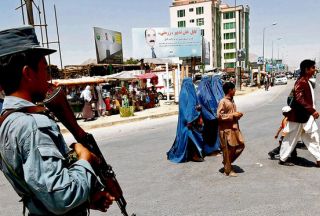 Blasts have rocked Kabul hours before a major international meeting to be attend by UN chief Ban Ki-moon and near 40 foreign ministers starts in Afghan capital.
According to witnesses, an explosion was heard Tuesday morning in the northern outskirts of Kabul, dpa news agency reported.
At least four other explosions were also heard near the city's international airport on Monday night, but there were no reports of casualties.
The Afghan Interior Ministry Spokesman, Zemarai Bashary, said there were no casualties in the rocket attacks, AFP reported.
"A couple of rockets landed in Kabul city district 9 (near the airport) last night," he said.
Taliban spokesman Zabihullah Mujahid said their militants had fired four rockets at the airport, adding that electricity at the airport was cut as the rockets triggered "heavy explosions."
Nearly 70 international representatives are to participate in the Kabul Conference, which is expected to approve new development projects and transfer aid money and responsibility to the Afghan government.
Most of the nearly 40 foreign ministers, including US Secretary of State Hillary Rodham Clinton, arrived in Kabul on Monday. President Hamid Karzai has already met several of the foreign dignitaries, his office said.
Thousands of security personnel have been deployed around the city, while NATO said it was ready to help with protection if asked.