Middle East
Turkey
Eye-catching Similarities in Russian Ambassador Assassination Scene with Turkish TV Series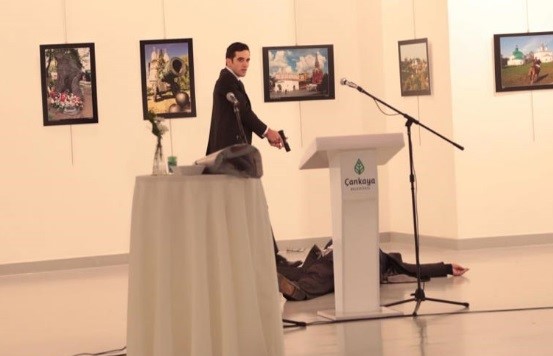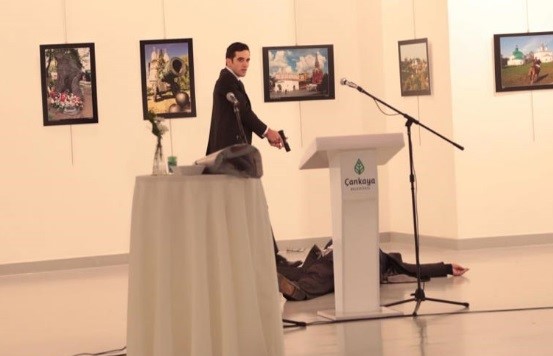 A television series which was being published in a broadcaster run by the Gülenist Terror Group (FETÖ) alluded to the Russian Ambassador Andrey Karlov's assassination with numerous similarities in an episode broadcasted in 2014.
Russian Ambassador to Ankara Andrey Karlov was killed on December 19, 2016 following an attack by Mert Altıntaş, a suspected Gülenist, during the opening reception of an art exhibition in the Turkish capital. Police special forces had killed Altıntaş in an operation that lasted around 15 minutes.
In one of the episodes of the TV series, an assailant is 'killed' during an operation by special forces at the scene, the Contemporary Art Gallery in Ankara's central Çankaya district — the same place where Karlov was assasinated.
The main plot of the 89th episode of the series entitled "Souls Dedicated to Order" (Nizama Adanmış Ruhlar) bears striking resemblance to the actual assassination of Karlov.
In the series, an unidentified ambassador visits an exhibition with his girlfriend, as a hypothetical terror group, which infiltrates to the art gallery through its agents with plans to assassinate the envoy. Ambassador Karlov was also at an art exhibition in capital Ankara when he was assassinated on Dec. 19 by gunman Mevlüt Mert Altıntaş, who is allegedly affiliated with FETÖ.
Prior to the ambassador's arrival, the assailants note that they have to kill the ambassador in order to spoil relations between Turkey and an unnamed country, only a day before they sign a critical agreement. Karlov was also assassinated only a day before crucial trilateral meeting between Turkey, Russia and Iran.
"This country has to burn its bridges with the West" perpetrators of the attack say in the TV series, highlighting that the deal must not be signed the next day.