World News
Far-right protesters, police clash in Kiev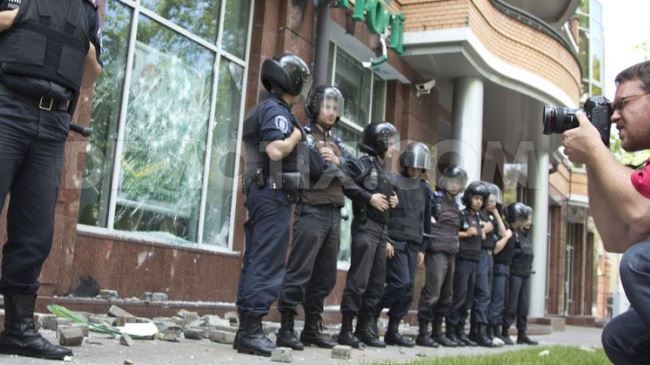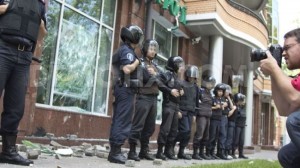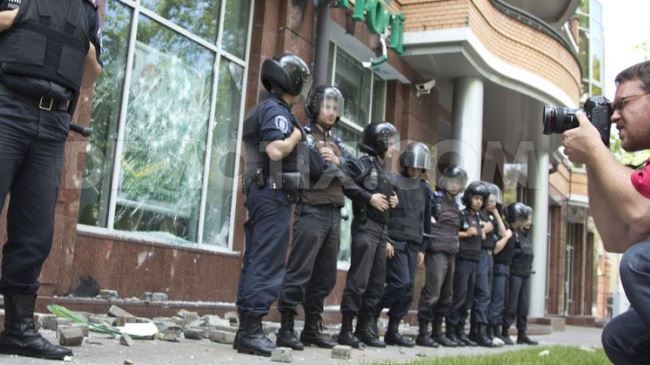 Far-right protesters clash with police outside an Orthodox Christian monastery in Ukraine's capital city of Kiev.
Members of the radical group Social National Assembly of Ukraine rallied outside the Pechersk Lavra, a historic Orthodox Christian monastery in Kiev on Sunday.
Masked protesters said the rally was in response to an alleged formation of a separatist territory in the capital by pro-Russia activists who they said have gathered in the building.
Kiev's Pechersk Lavra belongs to the Ukrainian Orthodox Church of Moscow Patriarchy. The far-right group pledged to crush any separatist movement in the country.
The far-right nationalists also destroyed the facade of the Sberbank of Russia in Kiev, after a vicious attack in broad daylight on Sunday. Ukrainian riot police was reportedly called to secure the area and deal with violent protesters.
Russia had previously warned of the rise of extremism in Ukraine amid the anti-government protests in the country earlier this year.
Earlier in March, hundreds of Ukrainian far-right nationalists demonstrated outside the parliament building, demanding the resignation of Interior Minister Arsen Avakov.
The crowd tried to storm the building by smashing windows in protest against Avakov for the killing of their leader, Oleksandr Muzychko, who was shot dead in a police raid in the western city of Rivne on March 24.
The latest neo-Nazi march and scuffles took place as Russia and other former Soviet republics commemorate the 73th anniversary of the Nazi invasion of the Soviet Union in 1941.