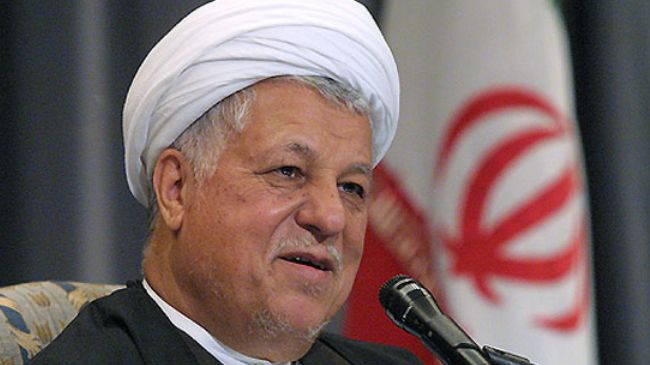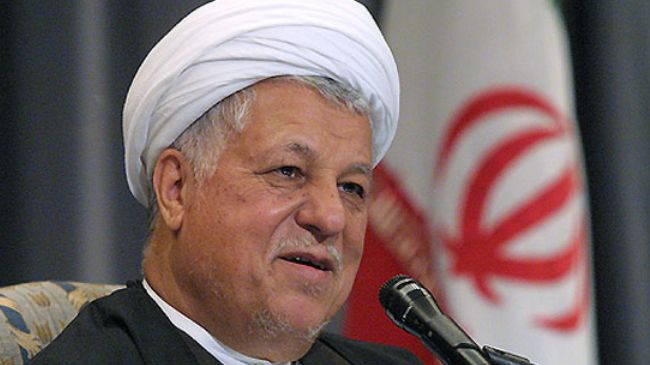 Chairman of Iran's Expediency Council Ayatollah Akbar Hashemi Rafsanjani has called for further unity among Palestinians, stressing that the fate of Palestine remains a permanent issue for the Islamic Republic and the Muslim world.
"Clashes and conflicts between Palestinian groups as well as in the Muslim world have always been the desire of the Zionist regime (Israel) and the global hegemony. The expansion of a relative unity between Palestinian (groups) is an imperative," Rafsanjani said Monday in a meeting with Palestinian Ambassador to the Islamic Republic Salah Zawawi.
The senior Iranian cleric further described the Islamic Awakening movement throughout the region as an auspicious and promising development for Muslim countries and cautioned against the persisting attempts by the domineering powers, the Israeli regime and their followers in the region to sow discord between Muslim nations as well as Shia and Sunni Muslims.
"No one in the region would be as pleased as the aggressive Zionist regime (Israel) with the conflicts between Islamic countries, especially between followers of Shia and Sunni faiths," Rafsanjani emphasized.
He further expressed regret over the indifference of the international community regarding the killing of innocent Muslims in Myanmar and emphasized that he expects all Muslim and independent countries of the world to react to the "terrorist ethnic cleansing" of Myanmar Muslims and "rush to their aid."
For his part, the Palestinian ambassador to Tehran thanked the Islamic Republic for its persisting efforts to establish unity and understanding among Palestinians and highlighted the common history of Iran and Palestine in resisting against Israel.
Zawawi also highlighted the attempts by Tel Aviv to Judaize al-Quds (Jerusalem) and argued that a spread of conflicts among Muslim states will help the Tel Aviv regime to achieve its objectives against the Palestinian people and the Muslim world.