Palestine
Father Hanna: The Church rejects Israel's attempts to recruit Christian youth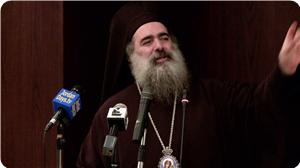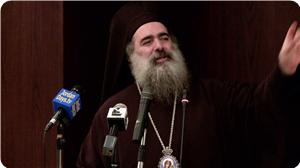 Father Attallah Hanna, archbishop of the Orthodox Church of Jerusalem, said he rejects all attempts by the Zionist entity to Israelize the Palestinian people from all spectra, stressing the Christian and Muslim Palestinians are one people sharing the same history.
Father Hanna made his remarks during a meeting with Christian young men refusing to join the Israeli army.
"The Church rejects all attempt to segregate and discriminate between the sons and daughters of the one people from different sects, and all attempts to separate the Christian Palestinians from the Palestinian people and their Arab roots," Father Hanna emphasized.
"Such miserable attempts will not succeed because our young men and women have enough awareness and sense of belonging protecting them," he added.
"We will never forget that the occupation forces that are trying to lure our young men and women into joining the ranks of their army are the same forces which have caused the nakba (plight) of the Palestinian people, and expelled and displaced them."
"We will not forget that it is the state which has destroyed our Muslim and Christian villages and cities, and we will not forget that it refuses the return of our people to their homes," the archbishop underlined.