Festival in Amman in support of the Jordanian prisoners in Israeli jails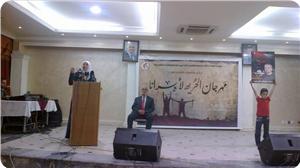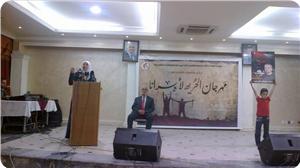 Trade unionists and former prisoners in Israeli prisons called on the Jordan's King Abdullah II to intervene immediately for the release of the Jordanian prisoners detained in Israeli jails.
"The successive governments have ignored the prisoners' issue," they said during the festival held by Jordan's National Committee for Prisoners and Missing Persons on Saturday in trade unions headquarters under the title "Freedom for our prisoners".
"The unions will defend the prisoners' issue till they return to their families safely", the unionist Mahmud Abu Ghenima said.
He was surprised at the Jordanian governments' ignorance towards the prisoners' issue, saying: "It has become known that the issue of the prisoners does not pose any priority for the successive governments," stressing that the issue of prisoners is an issue of all the Jordanian society.
For her part, the liberated prisoner Ahlam Tamimi stressed on the suffering of the prisoners, however, this issue was not mentioned in the government's program and the House of Representatives.
She stated that the prisoners' families are the only active element in the prisoners' issue, calling on the Jordanian government to bring even one achievement that makes prisoners see their families once a year.
The retired Colonel Mahmoud Guéré, the representative of the families of the Bani Hassan, has talked about the suffering of the prisoners, calling on the Jordanian government to intervene to release the Jordanian detainees in Israeli jails.
During the festival, children held their fathers' pictures, detained in Israeli prisons.