Middle East
FIFA slammed over migrant workers abuse in Qatar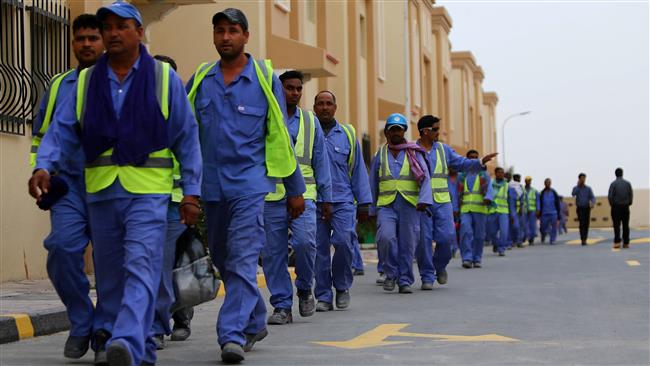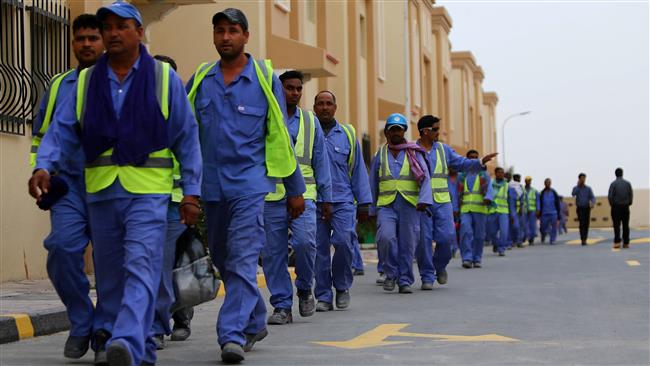 A prominent campaigning group has criticized soccer's international governing body FIFA for its inaction over the plight of migrant construction workers in Qatar who are busy preparing venues for the 2022 World Cup in the Persian Gulf state.
The International Trade Union Confederation (ITUC), the world's largest trade union federation, urged FIFA sponsors, including Coca-Cola, Visa and McDonald's, to use their position and address the maltreatment of hundreds of thousands of migrant laborers at the hands of their Qatari employers.
The FIFA sponsors have the power to pressure both FIFA and Qatar into improving the horrific working conditions in the Arab country.
"Qatar is a slave state," said Sharan Burrow, the ITCU secretary general, on Monday, adding, "FIFA knows Qatar is a slave state. Qatar could fix it. It is not about poverty. It is about greed. If FIFA were serious, they could turn it around. But they choose not to."
Burrow detailed harsh working conditions, poor standards of accommodation and abusive treatment by employers, accusing the football's governing body of refusing to speak out about the human rights criteria set by international sports bodies, including the Olympic Committee.
"[World Cup workers' rules] are probably in the realm of 60,000 to 80,000 rooms," Burrow said.
"FIFA knows it has the ultimate power. All it has to do is say yes to workers' rights, to the introduction of International Labor standards. If it did that then it would be respected," she added.
This came as Qatari official recently detained a news team while reporting on the plight of migrant workers building stadiums for the 2022 World Cup.
FIFA said that it has launched an investigation into the detention of the four media staff with the BBC, who had been invited by the Qatari prime minister's office on an official tour of new accommodation for construction workers.
Doha is also under criticism over its controversial "kafala" system, which has widely been censured as modern-day slavery. Under the kafala system, employers in the US-backed kingdom can prevent its mostly foreign-based labor force from changing jobs or even leaving the country.
Human rights organizations have repeatedly accused Qatar of dragging its feet on its labor law reforms, insisting that not enough is being done to investigate the effect of working long hours in temperatures that often exceed 50C.
Last year, it was reported that Nepalese migrants building Qatar's infrastructure to host the 2022 World Cup had died at a rate of one every two days in 2014 – despite the kingdom's promises to improve their working conditions.
According to the report by the Guardian, the figure excludes deaths of Indian, Sri Lankan and Bangladeshi workers, raising fears that if fatalities among all migrants were taken into account, the toll would almost certainly be more than one a day.
The report further underlined that there are nearly 400,000 Nepalese workers in Qatar among the 1.4 million migrants working on a £137 billion (USD 214) construction spree in the tiny Persian Gulf state.