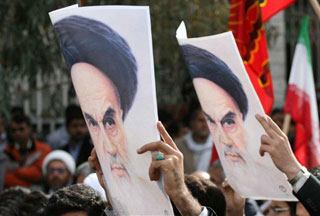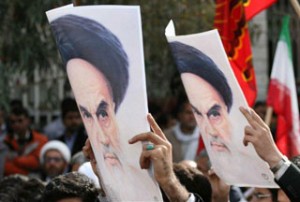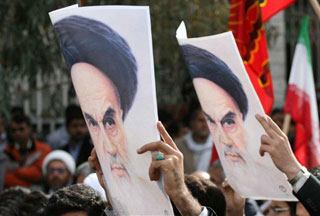 The desecration of a portrait of the late founder of the Islamic Revolution Ayatollah Rouhollah Khomeini has sparked angry reactions from the country's leading political figures.
Footage of last weeks demonstrations marking the national Student Day, included images of a torn-up portrait of the late founder of Iran's Islamic Republic, Imam Khomeini.
The day marks the anniversary of the killing of three Tehran University students on Dec. 7, 1953 by troops loyal to the last monarch of Iran Mohammad-Reza Pahlavi.
The students had opposed a visit by then US president Richard Nixon, whose government had in the same year blocked the democratic process in Iran by toppling the then prime minister Mohammed Mosaddeq and reinstalling an unpopular monarch.
Iran's President, Mahmoud Ahmadinejad, on Tuesday described the incident as an "objectionable" move "that he wished he had never witnessed."
The country's parliament has also issued a statement, calling on the judiciary to strongly deal with those behind the insulting move.
"The Judiciary should take action against those who have during the past months emboldened the enemies' of the late Imam to exhibit such outrageous behavior," read the statement signed by over 230 lawmakers.
Head of Iran's expediency council and assembly of experts, Ayatollah Ali Akbar Hashemi Rafsanjani also slammed the action that "certainly should not be repeated in the future."
In Tehran University, students staged a sit-in inside the university mosque, while those in Amir Kabir University held rallies as a sign of protest.
Iran's judiciary chief, Sadegh Larijani said "insulting any person in Iran is an offense punishable by law."
"This is not something exclusive to political figures or high level authorities, the law has explicitly defined it as a crime that should be punished according to the prescribed penalty," he added.
The act, which has sparked anger throughout the country, resulted in protest in the holy city of Qom. The city's main seminary cancelled Saturday's morning classes in protest against the incident, while students in a number of other cities took to the streets to express their rage.
The desecration was also condemned in Friday prayers across Iran.