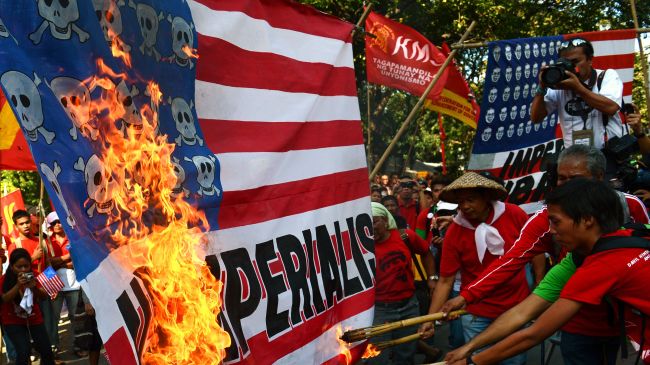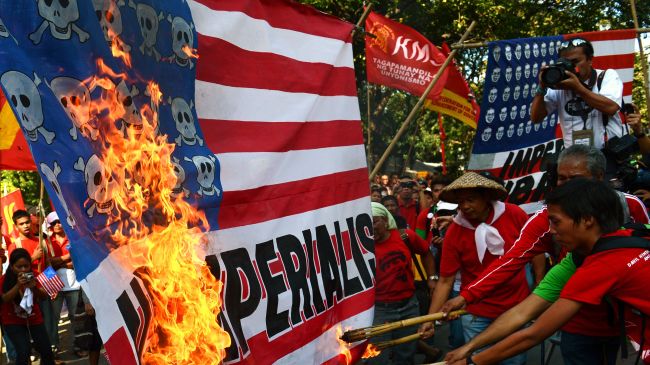 Activists in the Philippines have taken to the streets of the capital, Manila, in a show of rage over the presence of US military forces in the Asia Pacific region.
Thousands of people took part on Friday in a protest rally held near the US Embassy in Manila, and burned a mock US flag with the slogan "Number one terrorist" imprinted on it.
The Philippines and other Pacific states have seen a resurgence of US troops since late 2011 when the White House announced a turn in Washington's foreign, economic and security policy toward the region.
The Friday demo is the latest in the series of protests by Filipino rights activists long opposed to the Visiting Forces Agreement, which allows US troops to hold joint training with the country's military.
"Yes, we have always stood against the US presence in the Philippines and the region. We are against the Visiting Forces Agreement, we are against the deployment of US troops and the establishment of more bases," said Liza Masa, spokesperson for women's rights group Gabriela.
"Our call is for the US to get out of the Philippines and the Asia Pacific region," she urged.
The demonstrators also expressed support for anti-government uprisings in the Middle East as well as anti-austerity demonstrations across Europe.
They criticized the Philippine president's labor policies and compared themselves with the Occupy Wall Street movement in the US, which is protesting against the influence of big corporations on the Washington's policies as well as the unjust distribution of wealth and the high-level corruption in the country, among other things.
"Anywhere in the world where there's oppression, where there's economic hardships and exploitation, you expect people to rise up, and the Filipino people have been doing that way before the Occupy Movement of the United States," said Renato Reyes, who leads the Bagong Alyansang Makabayan (New Patriotic Alliance), a political coalition in the Philippines.
Reyes also hailed the sweeping wave of awakening across the world as indicating the decline of capitalism in the world. "The current capitalist order has failed the people and the people want a new system that would prioritize people over profit."