Iran
Final resolution of Bahman 22 nationwide demonstrations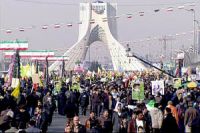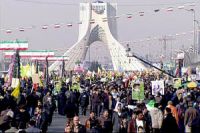 Iranian nation, within the final resolution of the nationwide demonstrations, marking the 35th anniversary of victory of Islamic Revolution, emphasized on national might and unity among different ethnicities and religious denominations, especially among Shiites and Sunnis in Islamic Iran.
According to IRIB World Service, this resolution pointed out that the Iranian nation believes that its victorious emergence in the face of challenges and crises, resulting from the seditious plots and conspiracies of the foes, is indebted to the prudent leadership of the Founder of Islamic Republic of Iran, late Imam Khomeini (May his soul rest in peace) and the Leader of Islamic Revolution, Ayatollah Seyed Ali Khamenei, and full compliance with the Leader's instructions. The Iranian nation also strongly condemns any divisive measure.
This resolution went on to point out that the Iranian nation monitors the conduct and stands adopted by 5+1 Group member states in the process of nuclear talks with Islamic Republic of Iran; and condemns the rude, and threatening allegations of a number of US officials about the military option being on the table, despite the conclusion of the Geneva agreement and the Iranian government's confidence-building measures regarding its peaceful nuclear activities.
The resolution went on to add that any provocative act of the enemy will prompt the swift, hard, and destructive reaction of the brave combatants of Islamic Revolution Guards Corps, Islamic Republic of Iran's Army, the Basij Mobilization Force, and the courageous Iranian people.
The resolution also reminded that the Iranian nation slams the satanic and divisive plots of Global Arrogance and its stooges, who are hell-bent on stirring insecurity in Middle East. Also, the Iranian people condemn the financial and military support of the US, global Zionism, and Saudi regime for Takfiri and Salafi terrorism sedition in Islamic countries, especially in Syria, Lebanon, Egypt, Bahrain, and Iraq. The Iranian nation also considers support for the Syrian government and nation; support for the Palestinian and Lebanese resistance; and efforts to wipe out the illegal Zionist entity called Israel, in addition to liberation of holy Quds as the most important strategy and the top priority of the World of Islam; while inviting the thinkers of the World of Islam to campaign against the unwanted phenomenon of terrorism.