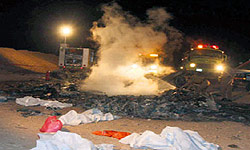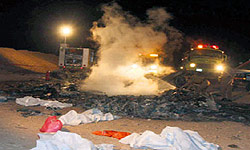 Five Americans from NATO-led foreign forces in Afghanistan have died in a helicopter crash, a US official said.
The crash took place in Daman district of Kandahar province on Monday, BBC reported.
"Initial reporting indicates there was no enemy activity in the area at the time of the incident," said the International Security Assistance Force (ISAF) in a statement.
The US later confirmed all the dead were Americans, adding that a rainstorm had caused the crash.
Helicopter crashes have occurred fairly regularly in Afghanistan – either due to accidents or enemy fire.
Eleven people – including seven US soldiers – died last August when a Black Hawk helicopter crashed, also in Southern Afghanistan.