Iran
Middle East
Fleet of Ghadir-class submarines testament to Iran's growing naval combat power
Iran has taken giant strides to achieve self-sufficiency in producing sophisticated military equipment, including the world's best submarines, despite decades-long sanctions and an arms embargo.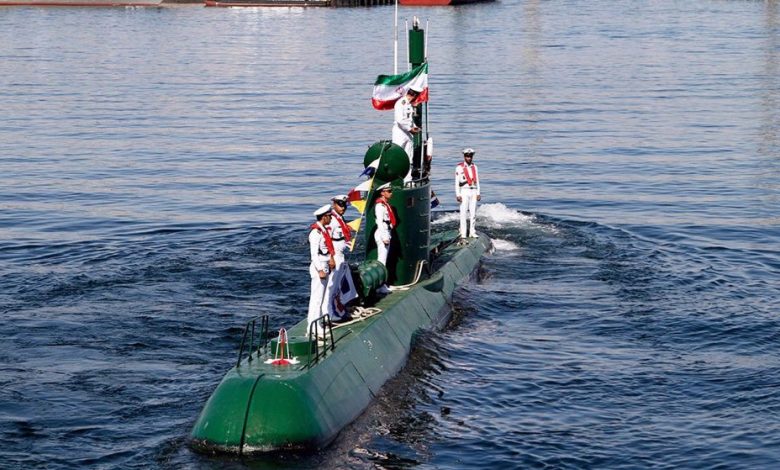 The country's military has phenomenally bolstered its naval combat power by building a large number of 'Ghadir' midget submarines and demonstrating its rapid progress in indigenous submarine technology.
Ghadir-class submarines, which officially joined Iran's Navy fleet in November 2018, are capable of launching subsurface-to-surface missiles, torpedoes and mines at enemy targets.
Unlike surface vessels, submarines are hard to track, which give them strategic advantage. They are also more difficult to manufacture and repair than surface ships, but Iran has shown that it can.
This capability to produce, reverse engineer and obtain small and large submarines is testament to Iran's rapidly expanding military industrial base, which has successfully neutralized the impact of sanctions.
According to leading military experts, Iran's domestically-produced submarines today possess the same technological prowess as those produced in the West and purchased by major Persian Gulf countries.
First-of-its-kind submarines
Ghadir is the first-of-its-kind class of midget submarines built by the Islamic Republic of Iran and designed specifically to cruise within the shallow waters of the Persian Gulf.
Iran has the distinction of being the only country in the region to excel in this feat by acquiring a large fleet of Ghadir-class submarines that are capable of firing torpedoes from two tubes, release minesweepers, launch missiles, and transport commandos.
In recent years, Iran has added exceptional capabilities to its fleet of Ghadir submarines, and newer models have been subsequently equipped with more advanced technology.
This class of submarine is now equipped with advanced reconnaissance system and the ability to fire anti-ship cruise missiles, which give it an extra edge.
The midget Ghadir-class submarine is 29 meters long, 2 meters and 75 centimeters wide, weighs 115 to 150 tons, has a maximum surface speed of 10 knots (19 km/h; 12 mph), and a range of 1000 kilometers. Its crew totals 7 officers.
Attributes of the submarine
What make this class of submarines particularly lethal are two long-range torpedo chambers with a diameter of 533mm, which are capable of launching anti-ship cruise missiles.
The 'weapons' installed on it and the element of surprise are its main distinctive features. The 1000-tonne vessel takes you to the depths of the sea in less than 10 seconds and the torpedo perched on it is said to be six times more destructive than a cruise missile.
The submarine's periscope is also unique and sophisticated, and the world's most advanced countries are already making a beeline to buy it from the Islamic Republic of Iran.
Its hull is produced in the country's alloy steel industry, which boasts of special features.
Ghadir's combat system is also very advanced. Its propulsion systems are brushless DC electric motor (BLDC) engines that are charcoal-free. They are smaller than conventional electric motors, which is the biggest advantage for a submarine, especially the size of Ghadir.
At the same time, its motor, with its smaller size, is more efficient and powerful, and the lack of brush makes it noiseless than other models of electric motors. Another advantage is lesser need for maintenance, greatly reducing the time and cost of overhaul works.
Iran is the first country to install this type of engine on its diesel-electric submarines operationally.
Launching missiles from beneath the sea makes it undetectable for radar systems. This class of submarine can detect the surrounding space with sonar while sitting on the seabed.
The battle management system has been installed on the Ghadir-class submarine by the Defense Ministry's Marine Industries Organization. According to its speed and direction, the enemy vessel is simulated in this system and shows the best position of the submarine for firing torpedoes or missiles.
Ghadir submarine in Zulfaqar drill
Iran's armed forces in September last year held a large-scale military exercise in the southern waters of the country, dubbed 'Zulfaqar-99'.
It involved Iran's army, navy, air force and air defense force and the Ghadir-class submarine was the cynosure of eyes during the much-publicized military drill.
During the exercise, Ghadir-class submarines, with the help of Jask 2 project, became the first mass-produced light submarine in the world to have the operational capability of firing cruise missiles from underwater.
'Jask 2' is deemed as one of the most important and strategic missile projects in the maritime world as it has given Iranian submarines the much-needed ability to fire cruise missiles from underwater.
In the model used in Jask 2, the missile is placed inside a torpedo-like cover and ejected from standard 533 mm tanks. Then, as it approaches the water surface and the missile is activated, the outer shell is detached, and the missile is fired at the target.
The Jask-2 design is based on the Nasr-1 anti-ship cruise missile. This small and light cruise missile was chosen for this design because it can be used inside a small submarine like Ghadir. The missile has a range of about 35 km, and its warhead weighs about 150 kg.
Anti-ship cruise missiles have become the standard weapon of Ghadir-class midget submarines, which makes Iran the first and only owner of midget submarines equipped with anti-ship cruise missiles.