Human Rights
Middle East
Yemen
Flight carrying Yemenis needing urgent medical care leaves capital Sana'a
A number of Yemeni children and their families, who were suffering from conditions that cannot be treated inside the war-battered Arab country, have been evacuated from the capital Sana'a, in what the United Nations hopes will be the first of more humanitarian flights.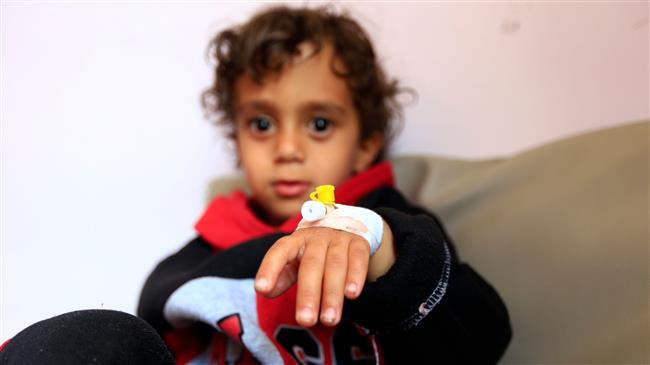 According to Altaf Musani, who is the representative of the World Health Organization (WHO) in Sana'a, sixteen passengers left on the first flight to Amman in Jordan after 18 months of negotiations to arrange the mission.
"The majority of the patients are women and children who suffer from conditions such as aggressive forms of cancer and brain tumors, or who need organ transplants and reconstructive surgeries," the WHO said on Twitter.
Abed Ali Murshid, the father of one of the children waiting for the evacuation flight, told AFP that his son is suffering from kidney failure and needs an organ transplant.
PressTV-Saudi war killed 3,600 Yemeni children, paralyzed 800Since the onset of the Saudi-led war on Yemen in 2015, more than 3,600 Yemeni children have been killed and 800 others paralyzed, a recent report shows.
"We are overjoyed. Today is the start of the air bridge that we have been waiting for two years," he commented.
"Severe diseases in Yemen are many, and people need to travel. The United Nations must operate the air bridge regularly, send abroad patients suffering from diseases, open Sana'a airport, and end the blockade of Yemen," the father added.
PressTV-'80k Yemeni kids suffer from trauma, psychological disorders'The Yemeni Ministry of Human Rights says 80,000 children are suffering from persistent trauma and psychological disorders a result of the continuous Saudi-led aggression.
United Nations Resident Coordinator and Humanitarian Coordinator in Yemen Lise Grande praised the humanitarian flight, saying, "This is the first of what we hope and believe will be many flights."
"It's a very important day. It's a day of hope. It shows that everyone wants the people who need help to get that help," the UN official said, adding, "The key is to have many flights, bigger planes, so that the people who need aid can get to the places where they will receive it."
PressTV-'Hunger claims a Yemeni child under five every 10 minutes'The Yemeni health minister says it is estimated that every ten minutes a child under five dies from extreme hunger in Yemen.
Additionally, aid organization the Norwegian Refugee Council (NRC) welcomed the start of the humanitarian airlift, saying thousands of Yemenis had been handed down a "death sentence" when the Saudi-led military coalition waging a war on Yemen closed down Sana'a International Airport in 2016.
"Today's move comes too late for thousands of Yemenis who died waiting to leave the country for urgent life-saving care," NRC's Yemen Country Director, Mohammed Abdi, said, adding, "We hope that these medical flights will save the lives of other Yemenis. Many more are still waiting to get the healthcare they need."
UN, WHO fail to open humanitarian medical air bridge for Yemenis: Health ministerThe Yemeni health minister has criticized the UN and WHO for failing to open a humanitarian medical air bridge for Yemeni patients.
On Sunday, Yemen's Ansarullah movement criticized the evacuation plan as inadequate for the needs of thousands of sick people in urgent need of medical care.
"The World Health Organization said it will transport via a small UN plane only seven patients with their escorts per flight," Ansarullah said in a statement.
The statement added, "The number of people signed up for medical evacuations are around 32,000 patients with serious illnesses."
PressTV-Diseases kill 300 Yemeni children every day: MinisterYemen's health minister says various diseases, including cancer, kill 300 Yemeni children every day.
Saudi Arabia and a number of its regional allies launched a devastating campaign against Yemen in March 2015, with the goal of bringing the government of former president Abd Rabbuh Mansur Hadi back to power and crushing the Ansarullah movement.
The US-based Armed Conflict Location and Event Data Project (ACLED), a nonprofit conflict-research organization, estimates that the war has claimed more than 100,000 lives over the past nearly five years.
The UN says over 24 million Yemenis are in dire need of humanitarian aid, including 10 million suffering from extreme levels of hunger.