Europe
Flood warnings issued for most of UK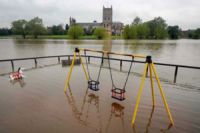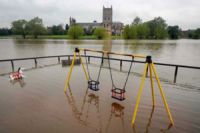 Flood warnings have been issued for most of the United Kingdom, with some areas expecting to see nearly half a month's rainfall in just an hour, the Met Office says.
According to Reuters, the environment agency has warned a "low risk" flood alert has been issued for most of the country for Saturday, with some areas of Britain seeing two to three centimeters of rain in an hour.
"We are looking at the potential for some localized flooding because the downpours are potentially heavy enough that we could see so much rainfall in a short space of time that it can't drain away fast enough," Met Office spokesman Dan Williams noted.
Thundery rain was expected to begin early in the morning, as showers are likely to continue until the evening, the Met Office said.
The cause of heavy downpours is warm, humid air moving in from Europe which creates a risk of downpours when it mixes with cooler air over the UK.
"Heavy rain with isolated torrential downpours may bring some river and surface water flooding on Saturday across all of England, except for Devon and Cornwall, and all of Wales, except for Pembrokeshire," the agency said.
Experts say the weather is likely to improve by Sunday, particularly in southern and eastern parts of the country and only a risk of light rain in some areas.