World News
Floods, landslides kill 136 in El Salvador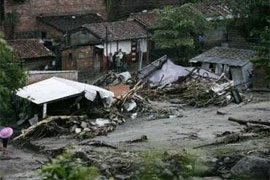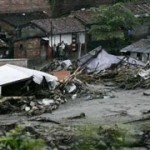 Rescue workers combed through mud, rubble and debris in search of survivors from raging floods and landslides that killed at least 136 people, after a late-season hurricane devastated swaths of Central America, AFP reported.
Landslides and overflowing rivers swept away entire homes, while a raging torrent ripped through an large section of the town of Verapaz, where bodies — covered in mud-caked sheets — were stored in a local chapel, waiting to be identified.
Rescue efforts focused on eastern San Vicente department, where 72 people were still missing after three days of driving rain, 60 of them in Verapaz alone, officials said late Monday.
"The problem here in finding bodies is removing all these rocks and trees," Carlos Arce, 27, told AFP in what remained of his town of 6,800 after the storm.
"The floods took away people, houses and destroyed the crops," said Javier Martinez, a local farmer.
A civil protection official updated the death toll from the storm from 130 to 136, adding that more than 13,000 people fled
their homes, some 1,800 homes were damaged or destroyed and 18 bridges and many roads were washed away by the floods.
Although Hurricane Ida did not hit the country of some seven million people directly, it brought heavy rain that affected the entire region.