Iran
Middle East
North America
FM: Iran Considering 'Plan B' If Talks Fail
Iranian Foreign Minister Hossein Amir Abdollahian urged the United States on Monday to be flexible and realistic to let the negotiations yield fruit, and warned that Tehran has its own "Plan B" and it will go into effect if Washington fails to make a political decision to revive the 2015 nuclear deal.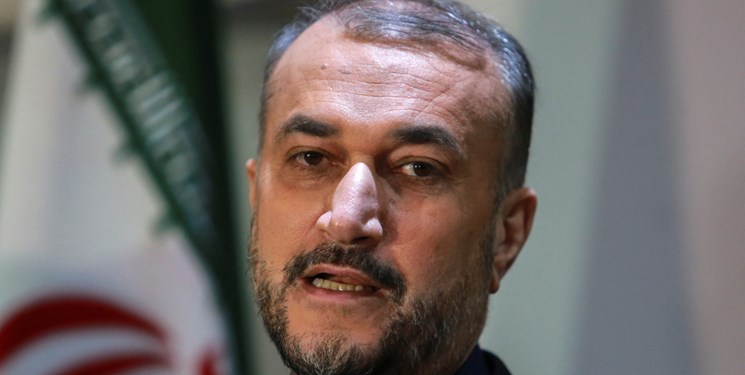 "We also have our own Plan B, but this issue must be resolved through talks," Amir Abdollahian stated, referred to the US claim that it has a Plan B in case the nuclear talks fail.
Speaking to reporters at the sidelines of a ceremony for commemorating Iran's Day of Correspondent, the foreign minister stated that if the US acts realistically and flexibly, Tehran and the other sides will reach a deal in the coming days.
"We will submit our final conclusion in black and white to the EU coordinator by monday midnight. If the US response is realistic and flexible, a deal will be made. If the US doesn't show flexibility, then we should talk further," he added.
"We are at a point that can be the beginning of the conclusion of a deal, but it depends on the US how long it will take before reaching an agreement. Washington knows very well how much flexibility we have shown, now it is the turn of the American side to be flexible," the top diplomat continued.
Elsewhere in his remarks, the top official said Iran and the P4+1 have done what is necessary, adding that the Vienna talks made "progress" but Tehran does not want to enter into an agreement which would make no changes on the ground.
The minister stated Tehran and Washington are exchanging messages on three issues and that Iran will announce its views in the next few days.
Iranian diplomat stressed that the US side showed flexibility regarding two issues in words but this must be in practice, urging Washington to also show flexibility about the third issue, namely guarantees.
"We told Americans that if our opinions on these three issues, which are reasonable opinions, are respected, we are ready to enter the stage of announcing an agreement and hold a conclusion meeting," Amir Abdollahian concluded.
Earlier, Foreign Ministry Spokesman Nasser Kana'ani said that Iran is sticking to its redlines in negotiations and will not retreat from them, and added that the parties to the 2015 accord are close to an agreement, but it depends on US compliance with its undertakings.
"Relative progress has been made in Vienna talks. But the US has not fully accommodated Iran's demands and we had other expectations from the other side that we believed should be satisfied," Kana'ani told reporters at a press conference in Tehran.
Iran and the five remaining parties to the nuclear deal have held several rounds of negotiations since April last year to restore the agreement, which was unilaterally abandoned by Donald Trump in May 2018.
In quitting the agreement, Trump restored sanctions on Iran as part of what he called the "maximum pressure" campaign against the country. Those sanctions are being enforced to this day by the Joe Biden administration, even though it has repeatedly acknowledged that the policy has been a mistake and a failure.
Iranian officials say the ball is in the US' court, and the Biden administration should assure Tehran that it will not repeat Trump's past mistakes.
Iranian officials have also criticized Washington for raising excessive demands from Tehran during the nuclear talks, and blocking efforts to reach an agreement on the Joint Comprehensive Plan of Action (JCPOA). They emphasized the Tehran's will to reach a good, strong and lasting agreement, and stressed that the US should lift unilateral sanctions, and assure Iran that it will not repeat its past mistakes.