Iran
FM: Iran Not to Give in to Western Pressures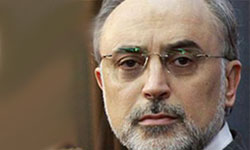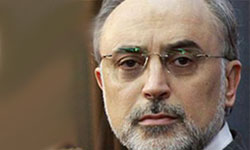 Iranian Foreign Minister Ali Akbar Salehi said that western sanctions and pressures cannot influence Tehran's stances, adding that the West is well-aware of Iran's prowess in the Middle East.
"The West has reached the conclusion that the Islamic Republic is the most powerful country in the Middle East, so it is (now) trying to turn its confrontational approach into one of interaction," Salehi said on Tuesday.
He noted that the Iranian nation will never give in to the West's pressures and threats.
Earlier this year, Supreme Leader of the Islamic Revolution Ayatollah Seyed Ali Khamenei warned about the arrogant powers' full-fledged attempts to pressure Iran, but meantime, underlined that the Iranian nation will not surrender to enemies' plots and sanctions.
"The front of the arrogance has made a maximum use of its efforts and power to force the Iranian nation to surrender to sanctions and pressures, but this nation will tolerate the difficulties since it has understood the enemy's plot and tactic and its strategic goal, and it acts upon its correct understanding and recognition," Ayatollah Khamenei said in a meeting with a number of Iranian Armed Forces' counterintelligence officials and personnel in Tehran in January.
He said sanctions and pressures have failed to make the Iranian nation give up its cause and support for the Islamic establishment, and the Iranian nation which is aware of the enemies' plots will massively participate in the annual February 11th rallies across the country, which are held to celebrate the anniversary of the victory of the Islamic Revolution, in a show of support for the Islamic establishment.
Political observers believe that the West has remained at loggerheads with Iran mainly over the independent and home-grown nature of Tehran's nuclear technology, which gives the Islamic Republic the potential to turn into a world power and a role model for the other third-world countries. Washington has laid much pressure on Iran to make it give up the most sensitive and advanced part of the technology, which is uranium enrichment, a process used for producing nuclear fuel for power plants.
Iran has so far ruled out halting or limiting its nuclear work in exchange for trade and other incentives, saying that renouncing its rights under the NPT would encourage the world powers to put further pressure on the country and would not lead to a change in the West's hardline stance on Tehran.
Iran is under four rounds of UN Security Council sanctions for turning down West's calls to give up its right of uranium enrichment. The United States and the European Union have ratcheted up their sanctions on Iran this year to force it to curb its nuclear program.
Iranian officials have always shrugged off the sanctions, saying that pressures make them strong and reinvigorate their resolve to further move towards self-sufficiency.