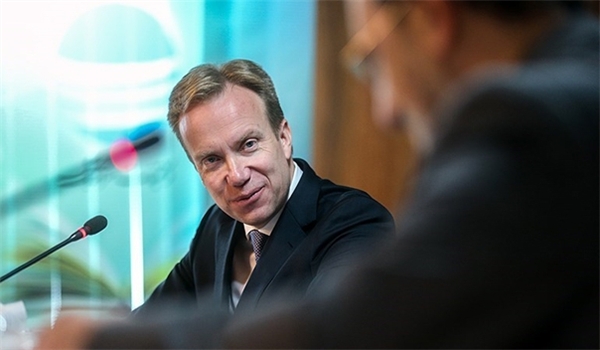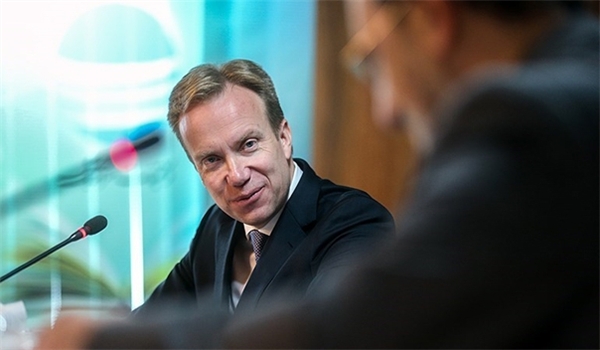 Norwegian Foreign Minister Borge Brende underlined that his country attaches much importance to Iran's aid and assistance in resolving the regional crises.
"My country has counted on Iran's help for resolving the regional crises," Brende told reporters after a meeting with Iranian Supreme Leader's senior advisor for international affairs Ali Akbar Velayati in Tehran on Saturday.
The Norwegian foreign minister, meantime, pointed to the status quo in Tehran-Oslo relations, and said, "Expansion of bilateral ties with Iran is on the agenda of the Norwegian government."
He pointed to his meeting with Velayati, and said, "We discussed issues such as fighting terrorism, the ISIL and how to resolve the crisis in Syria and Iraq during our meeting."
The Norwegian top diplomat said Velayati and he have also had some "constructive talks" in area of nuclear technology and "the two countries' cooperation" in this field.
Brende mentioned Iran's nuclear negotiations with the world powers as one of the topics of his meeting with Velayati today, and said the November 24 deadline of the Iran-powers nuclear talks is highly important for his country.
"The peaceful settlement of Iran's nuclear issue can be of importance since it can result in (further) opportunities for bolstering Tehran-Oslo cooperation," he concluded.
Also at the meeting, Velayati expressed regret that a growing number of Europeans are joining the ISIL terrorist group.
"People from certain European countries have joined the ISIL, and this is a cause of deep regret," Velayati said.
"Unfortunately, today the ISIL, as a Takfiri and extremist group, is acting against all the international laws with the support of certain states and is threatening the entire region and the world," he added.
Stressing that crisis and insecurity is harmful to every country, Velayati said, "The Middle-East is the crossroad of the world and should be tranquil."
The EU counter terrorism chief announced in September that the number of Europeans joining Takfiri fighters in Syria and Iraq had jumped by a third to around 3,000 in a few months.
"My own assessment is that we're about 3,000," Gilles de Kerchove said when asked how many European fighters have flocked to the extremists' cause.
In June, he said there were 2,000 such fighters from Europe.
The European fighters, he said, came mainly from France, Britain, Germany, Belgium, the Netherlands, Sweden and Denmark but a few come from Spain, Italy, Ireland and now Austria.
"Even a country like Austria I think has now foreign fighters, which I was not aware of before," he added.