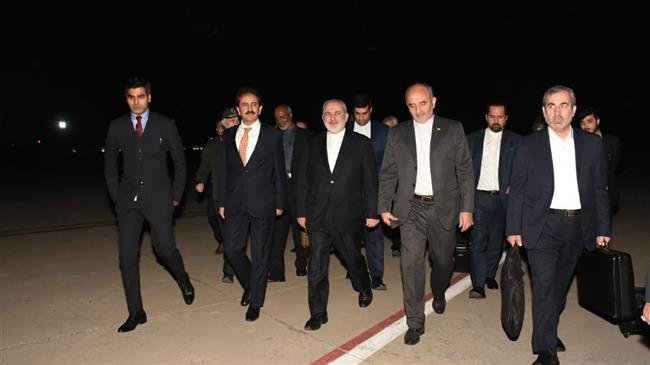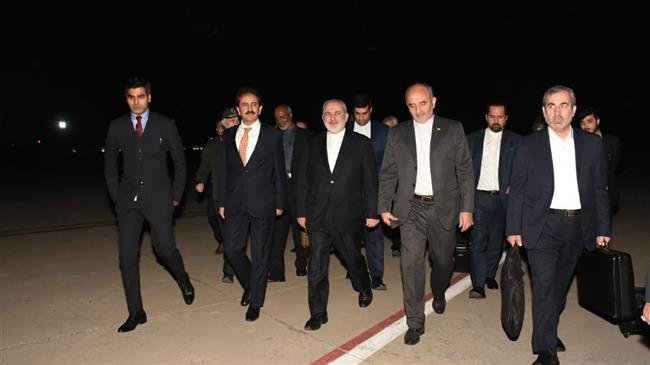 Foreign Minister Mohammad Javad Zarif has arrived in Islamabad to pursue the fate of the Iranian forces who were abducted by Pakistan-based terrorists near the two countries' joint border earlier in October.
Upon arrival in the Pakistani capital early Wednesday, Zarif said, "There is need for constant negotiation with Pakistani officials so that the abductees' return to their homeland can be secured."
Pakistani officials have promised that their government would exert every effort to secure the release of the kidnapped Iranians, he added.
"Iran and Pakistan are two very good neighbors, and Tehran enjoys good relations with Islamabad. We consult with them on all matters," the Iranian top diplomat noted.
Zarif is heading a political and military delegation on his visit to Pakistan.
Terrorists with the so-called Jaish ul-Adl terrorist group abducted 12 Iranian forces in the southeastern province of Sistan and Baluchestan, and spirited them away into neighboring Pakistan.
The group later posted two photos of the abductees on its social media channel.
Iran's IRGC confirms the abduction of 12 Iranian border guards on the border with Pakistan.
Over the past few weeks, bilateral talks have been underway on the fate of the captives. Tehran has offered to launch joint operations with Islamabad to free the abductees.
Iranian border guards have repeatedly come under attack by terror outfits active on Pakistani soil.
Tehran wants Islamabad to live up to its end of a 2013 bilateral security deal, and end terror activities on its side of the border, .
Last April, the same terror group carried out an attack in the border town of Mirjaveh, taking the lives of 10 Iranian border guards.
The Islamic Republic says it reserves the right to pursue potential attackers back into the countries they originate from.