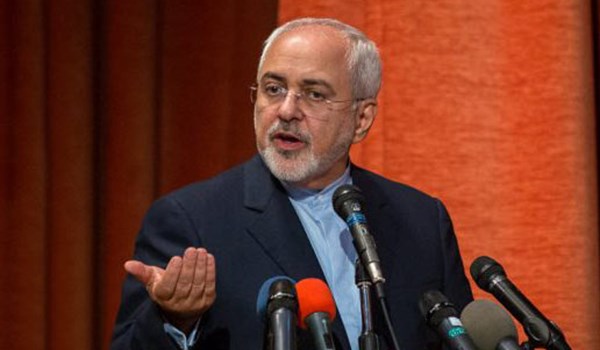 Iranian Foreign Minister Mohammad Javad Zarif who is on a European tour underlined that he does not feel any pressure by the US sanctions against him, declaring his upcoming visit to Paris to meet his French counterpart and President Macron.
Zarif announced upon arrival in Stockholm on Monday evening after a visit to Finland that although he is still under US sanctions, there was no pressure on him and the US sanctions are not exerting any pressure on Iran's FM to get his job done.
The Iranian top diplomat added that he is scheduled to meet with French President Emmanuel Macron and Foreign Minister Jean-Yves Le Drian on Friday.
Elsewhere in his remarks, Zarif said that Iran is trying to maintain its security in every possible way, underscoring that the progress of Iran is in the hands of Iranians, not in that of the foreign powers.
He also noted that in many countries such as in Russia and China, the dollar is being eliminated from business transactions thanks to the imposed US sanctions.
Referring to the European established mechanism for trade with Iran, Zarif said "INSTEX may not be a cure for the problems in the short term and in the long run it will raise some concern for Europe."
"They may wonder what to do if their ties with China come under sanctions," he said.
"INSTEX has some problems; first of all, money must be injected into the mechanism. It must be supplied from Iranian oil revenues or credit equivalent to Iranian oil. The next problem is that INSTEX cannot be just a tool for humanitarian purposes, it should not to be limited to food and medicine," he added.
The Iranian Foreign Minister further announced that Tehran was ready to negotiate with Riyadh on regional issues.
Zarif, who is on a three-nation tour to Nordic countries to hold high-level talks with the European country's senior officials on a host of bilateral as well as international issues, met with his Finnish counterpart Pekka Haavisto and the Finnish Minister for Development, Cooperation and Foreign Trade Ville Skinnari in Helsinki on Monday. Prior to these meeting, Zarif held talks with Finnish President Sauli Niinisto.
From Sweden, Zarif will continue his trip to Norway and France.
Late last month, the US Department of Treasury imposed sanctions against Zarif.
Zarif, who has been Iran's foreign minister since 2013, was the chief negotiator in the multinational nuclear deal known as the Joint Comprehensive Plan of Action (JCPOA).
The Trump administration said last month it was planning to impose sanctions against Iranian top diplomat.
In reaction to the decision, Zarif played down the US sanctions against him, expressing pleasure that he is considered as a "huge threat" to Washington's plots.
"The US' reason for designating me is that I am Iran's primary spokesperson around the world," Zarif wrote on his Twitter account early Thursday.
"It has no effect on me or my family, as I have no property or interests outside of Iran," he added, asking the US whether the truth is really painful.
"Thank you for considering me such a huge threat to your agenda," Zarif reiterated.
"We know that calling for dialog and peace is an existential threat to B-Team. And since reason for designating me is my words, would US persons need OFAC license to engage with me by reading my writings or listening to interviews?" he wrote.