Afghanistan
Iran
Middle East
FMs of Afghanistan's neighbors stress non-interference in its affairs as they conclude Tehran meeting
Foreign ministers of Afghanistan's neighboring countries stress the need for allowing the Afghan people to decide their own fate in the absence of all forms of foreign interference.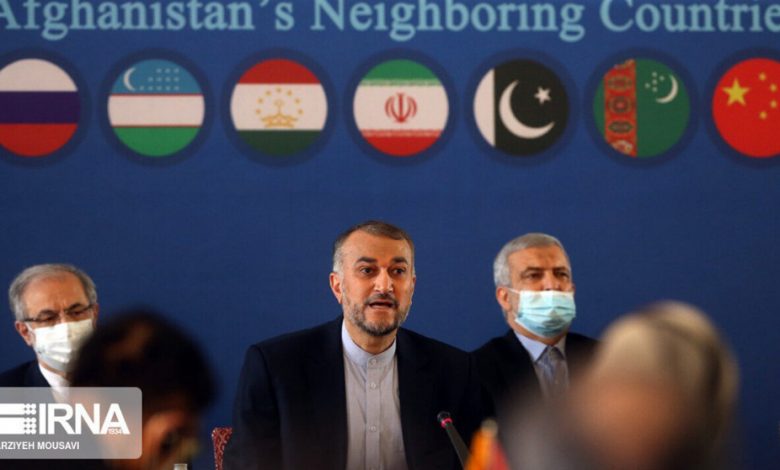 The top diplomats made the remarks in a joint statement at the end of a meeting held in the Iranian capital Tehran on Wednesday to address the Asian country's situation since the Taliban's rise back to power there in August. Aside from Iran, the meeting gathered the senior diplomats of China, Pakistan, Tajikistan, and Turkmenistan plus Russia.
The ministers stressed "support for the national sovereignty, political independence, unity, and territorial integrity of Afghanistan, and non-interference in its internal affairs," read the statement.

They also underscored "the Afghan people's right to decide on their own future independently," it added.
The joint statement also underlined the responsibilities that were borne concerning Afghanistan by the "countries [which were] primarily responsible for the difficulties" that were currently faced by it, referring to the United States and its allies that invaded the country in 2001 under the banner of the "war on terror."
The invasion toppled the Taliban, but the group rallied and began establishing a presence in the biggest part of Afghanistan's soil.
Earlier this year, the Taliban launched an exceptionally forceful offensive to renew its control over Afghanistan. The US only helped the matters by announcing an unexpected withdrawal in April, and completing the pullout over the next five months.
The foreign ministers also laid emphasis that "an inclusive and broad-based political structure with the participation of all ethno-political groups is the only solution to Afghanistan's issues."
Speaking before the release of the statement, Iran's Foreign Minister Hossein Amir-Abdollahian likewise noted that the gathering's focus rested on "political resolution" of Afghanistan's crisis.
Reiterating his earlier statements, the foreign minister also said he considered the United States to be responsible for the Afghan people's "pain and suffering" over the previous two decades.
Iran prepared to help Afghanistan fight Daesh
Amir-Abdollahian said despite the Taliban's promise to strive towards ensuring the safety and security of both the Afghan people and Afghanistan's neighbors, Iran had relayed its "security concerns" to the country's new rulers.
"We told them that terrorist actions should not come to endanger the borders and neighboring countries' security," he said.

"We will provide the Afghan side with the security consultations [that are required] for the fight against Daesh," the foreign minister noted.
The Islamic Republic has already provided successful military advisory assistance to Iraq and Syria, upon their request, which helped the Arab countries defeat the Takfiri terrorist group.
Since the defeat, the group has been trying to establish a firmer foothold in Afghanistan and carried out sporadic, but deadly attacks against various ethnicities in the country, including Shia Muslims.