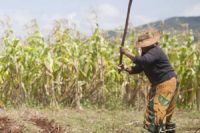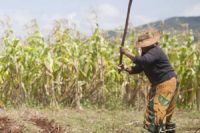 The United Nations Food and Agriculture Organization (FAO) has issued a warning about the worsening food insecurity across the globe.
According to the latest Crop Prospects and Food Situation Report by the FAO released Thursday, food insecurity threatens as many as 38 countries, including 29 in Africa, although an all-time record of more than 2.5 billion tons of cereal have been produced in 2014.
The UN food agency named civil conflicts, adverse weather and the Ebola outbreak as the root causes of the global food insecurity.
The outbreak of Ebola in western Africa reportedly began just as crops were being planted in Guinea, Liberia and Sierra Leone, causing a drop in the agricultural harvest in the countries.
The report also showed that bad weather adversely affected harvests in the Sahel region.
The UN agency also sounded the alarm over the worsening situation in Syria and Iraq. It said that the ongoing conflict coupled with a weak harvest has left almost seven million people facing food insecurity in Syria alone.
It further noted that food insecurity remains acutely serious in Iraq.