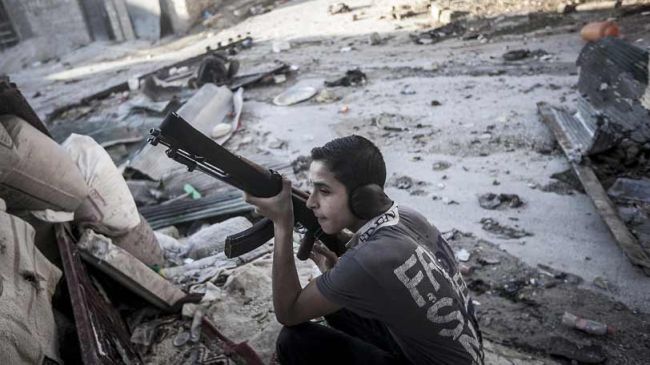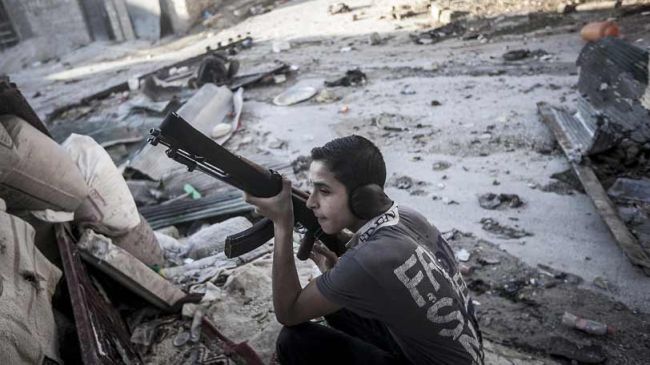 Despite prohibition by international law on the recruitment of children as combatants, the foreign-backed militants in Syria force minors to join them in the battle against the Syrian government, a report says.
The terrorists train the children how to handle a weapon, how to disarm an enemy or kill him with a knife or even bare hands.
"When they arrive here, they are children. By the time they leave, they are killing machines," said Abdel Razzaq, a militant.
Several amateur videos have shown child soldiers fighting against Syrian military forces in flashpoint cities across the country.
The videos also show children being forced to dig their own graves before joining the militants.
International law prohibits the use of anyone under the age of 18 in combat and other military support operations, such as espionage.
The use of children "as combatants or as a support to combatants constitutes a grave violation of children's rights," UNICEF child protection coordinator Jean-Nicolas Beuze said.
"Commanders have the obligation to turn them (children) away," Beuze added.
Human Rights Watch has interviewed several teenagers who said they had worked with the militants in a number of cities in Syria.
This is while the countries financing the armed groups or supplying them with weapons have turned a blind eye to such violations.
Children have been the main victim of the violence in Syria since the unrest hit the country back in 2011.
Syria has been experiencing unrest since March 2011. Many people, including large numbers of security forces, have been killed in the turmoil.
The Syrian government says the chaos is being orchestrated from outside the country, and there are reports that a very large number of the militants are foreign nationals.