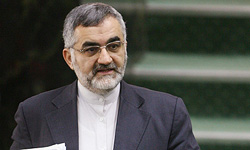 A senior Iranian lawmaker says Iran's security forces have detained a European diplomat during the Ashura riots in Tehran.
Head of the Iranian Parliament's National Security Committee Alaeddin Boroujerdi, said on Thursday that the European charge d'affairs was released 24 hours later with the mediation of the country's embassy.
"A European diplomat was among those arrested during the Ashura unrest but because of the Vienna Convention and due to the mediation of the country's embassy he was released after 24 hours," Boroujerdi said. He did not disclose the diplomat's name or his/her country of origin.
Anti-government protestors staged rallies in Tehran on December 27, taking advantage of the Ashura ceremonies. Police used tear gas to disperse the protesters who vandalized public property and set trashcans aflame, provoking clashes with security forces.
Seven people died during the unrest. The deputy police chief, Ahmad-Reza Radan, said the force had not used violence against protesters, rejecting any involvement in the killings, adding that authorities were investigating the deaths.
In response to the Ashura riots, millions of Iranians took to the streets on Wednesday, demanding that rioters will be brought to justice.
Iran said it was evident for the country that the anti-government riots were led by foreigners.
Earlier this week, Iranian Intelligence Minister Heydar Moslehi said that "several foreign nationals" had been detained during the unrest.
"They had entered Iran only two days before Ashura. Their cameras and equipment have been confiscated," he said.
Boroujerdi went on to say that the US congress has spent $55 million during the Iranian presidential election and hatched more than 60 plots to overthrow the Islamic Republic.
"The Iranian nation has stood against foreign interference," he stressed.
Boroujerdi added that such plots have always yielded opposite results and instead served as a means to unite the Iranian nation.