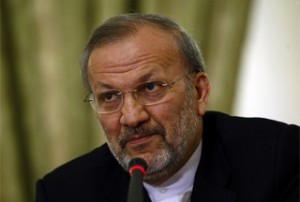 Iranian Foreign Minister Manouchehr Mottaki has said that sporadic conflicts in eastern parts of the country are caused by foreign agents.
"They are resident in Pakistan but violate border [regulations] of Iran and Pakistan," said Mottaki in a press conference on Tuesday.
"They have links with intelligence services which are settled in the regional countries including Pakistan and Afghanistan," he added.
At least 41 people, including seven ranking commanders of the Islamic Revolution Guards Corps (IRGC), were killed in an explosion during a unity conference between Sunni and Shia tribal leaders in the borderline city of Pishin in southeastern Sistan-Baluchistan Province on Sunday.
The Pakistan-based terrorist group Jundallah, a closely affiliated with the notorious al-Qaeda organization, accepted responsibility for the deadly attack.
Mottaki said terrorists are moving in the same path they pursued in Iraq's Basra.
"In Basra, British forces were in contact with certain terrorist groups and hold [training] courses for them," he said.
"When Iranian authorities presented evidence about the issue, the British forces were forced to cut their links with terrorists in southern Iraq and left the area," the Iranian minister said.
Mottaki advised British forces " not to repeat their mistakes in southern Iraq in eastern parts of Iran."
He pointed to steps taken by the Pakistani government in improving relations with Tehran over the past year and said, "Extradition of the arrested criminals to Iran was the beginning of this trend while a number of others are still kept in prison (in Pakistan)."
In June 2008, Pakistani authorities handed over Abdolhamid Rigi, brother of the notorious terrorist leader Abdolmalek Rigi, to the Islamic Republic of Iran.
He said Iranian President Mahmoud Ahmadinejad and his Pakistani counterpart Asif Ali Zardari agreed on Monday to set a timetable for adopting "effective" measures regarding the criminals and their leaders.
President Ahmadinejad, in a telephone conversation with his Pakistani counterpart, said the presence of terrorist elements in Pakistan was 'unjustifiable' and urged Islamabad to 'quickly confront' Jundallah terrorists.
Mottaki said an Iranian delegation will be dispatched to Pakistan to discuss ways to "cut the hands of rioters and their allies."
The Jundallah ring, led by Abdolmalik Rigi, has staged a torrent of bombings and terrorist attacks in Iran.
In a recent interview with Press TV, Rigi's brother, Abdulhamid, confirmed that the Jundallah leader had established links with the US agents.
His brother said that in just one of his meetings with the US operatives, Rigi had received $100,000 to fuel sectarianism in Iran.