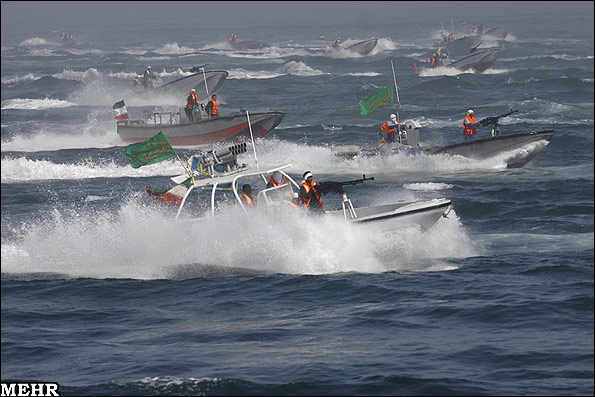 "The IRGC Navy monitors foreign vessels entering the Persian Gulf and questions their nationality, the type of the vessels and their destination," Rear Admiral Alireza Tangsiri, who commands the IRGC's naval force, said in an interview with Tasnim news agency on Sunday.
All vessels belonging to different countries, including the United States, he said, have always been answerable to the IRGC Navy.
He emphasized that monitoring foreign vessels in the Persian Gulf is an inalienable right of the Islamic Republic, adding, "The Persian Gulf belongs to Iran and the Persian Gulf littoral states and we have the right to question the vessels, because the entrance to the Strait of Hormuz is located in Iran's territorial waters."
International regulations verify Iran's right to question foreign vessels, Tangsiri said, noting that the Islamic Republic has been exercising the right in cooperation with regional and extra-regional countries.
"The presence of extra-regional countries," the commander said, "pose certain threats, but our message is that peace and friendship in the region can be established only by regional countries and we have repeatedly announced this issue in various maneuvers and meetings."
In August, Tangsiri warned that foreign military presence in the Persian Gulf brings insecurity and instability to the region.
He added that deep waterways in the Persian Gulf and the Sea of Oman and those between Iranian islands were safe and that the Islamic Republic had always worked to establish security there.
"Today, we can establish security in the Persian Gulf. Iran is the flag-bearer [among the countries] in establishing security."
Over the past years, Iran has made major breakthroughs in its defense sector and attained self-sufficiency in producing military equipment and hardware despite sanctions and economic pressures on the country.
The Islamic Republic maintains that its military power poses no threat to other countries and is merely attentive to its military doctrine of deterrence.