Syria
Former Egyptian Envoy: Israel's Attack to Increase Arabs' Support for Syria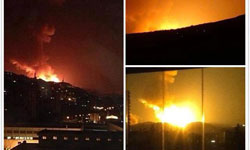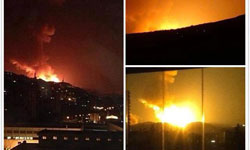 Former Egyptian Ambassador to Damascus Mahmoud Shokri said that the Israeli attack on Syria had a positive outcome as it has increased Arab support for the Syrian government.
"The Israeli attack on Syria will make the Arabs condemn the Zionist regime's behavior and support Syria's political system," Shokri told FNA in Cairo on Tuesday.
"Israel's military attack on Syria was a type of unintended service to the Syrian government and foiled all the efforts made by certain groups to come in control of the crisis. It was a negative move for Israel, but a positive one for the Syrian government," he added.
Shokri said that Syria and its politicians should use Israel's military attack to gain the possible political benefits before responding to it militarily.
On Sunday, Israeli rockets struck the Jamraya research center in the vicinity of the Syrian capital, Damascus.
Syria said the Israeli regime had carried out an airstrike targeting a research center in a suburb of Damascus after heavy losses were inflicted on al-Qaeda-affiliated groups by the Syrian army.
Syria's Foreign Ministry sent letters to the United Nations and its Security Council stating that Israel's aggression shows the links between Tel Aviv and terrorist groups operating in Syria including the al-Qaeda-linked al-Nusra Front.
Syrian Information Minister Omran al-Zoabi told reporters in Damascus on Sunday that Syria had the right and the duty to defend its people by all available means and it would not give in to Israeli acts of aggression.
The Israeli attacks on Syria have made the Middle-East more dangerous, the Syrian information minister said.
Also a senior Syrian military source told Russia Today on Monday that the Zionist entity used depleted uranium shells in the strike in Syria.
"When the explosion happened it felt like an earthquake, then a giant golden mushroom of fire appeared. This tells us that Israel used depleted uranium shells," the source said.
The Sunday Israeli aggression was Tel Aviv's second strike on Syria in three days and the third in the last five months.
The Jamraya facility was also targeted in an Israeli airstrike in January.