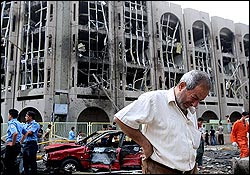 A series of bomb attacks in close proximity to Baghdad's Green Zone has killed at least four Iraqi people and injured fourteen others including Press TV's cameraman.
"Four explosions rocked the heavily fortified Green Zone in central Baghdad on Tuesday morning," Press TV correspondent reported.
Three of the blasts were caused by car bombs and the other by a mortar shell, the report added.
Baghdad is currently reeling from multiple coordinated bombings on Tuesday, which killed 127 people and wounded more than 500 others. On Thursday al-Qaeda militants claimed responsibility for the bombings and warned of more strikes to come against the Iraqi government.
Iraqi security officials warn militants will probably continue high-profile attacks in an attempt to destabilize the Iraqi government in advance of the March 7 parliamentary elections.