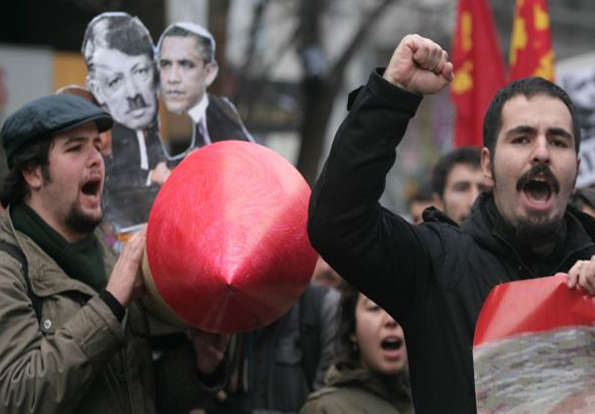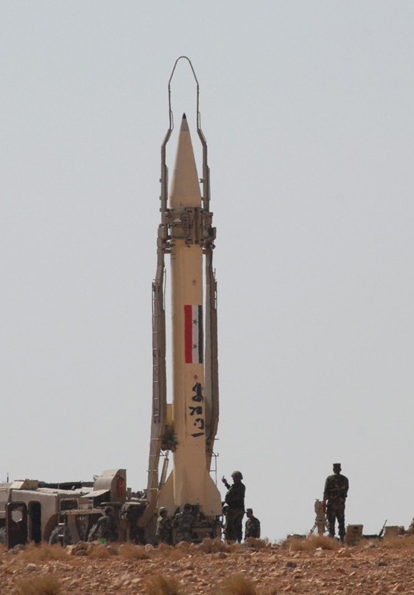 Military analysts believe that Patriot missile system in current situation would not provide any protection for Turkey against possible Syrian offensive, if western countries decide on a strike on Syria. Assessments reveal that US has burdened Turkey with additional expenses by deploying the missile system.
The missile system was developed by American company, Raytheon, and was operative first during the Persian Gulf War of 1991 for protecting Zionist regime and Saudi Arabia, and now, has been deployed in Turkey to purportedly protect this country. Examinations reveal that under current situation, it is not capable of providing protection for Turkey and US has burdened Turkey with additional costs.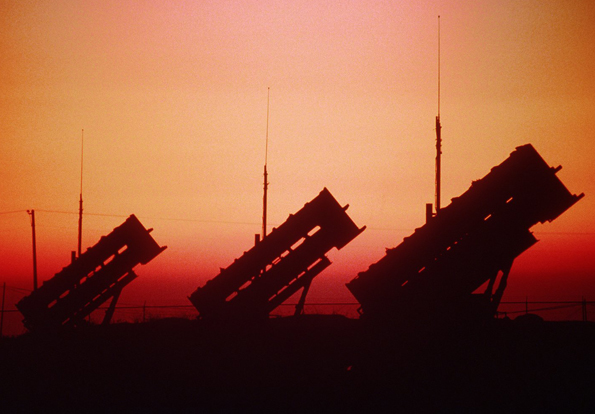 Reasons that make Patriot system unreliable for Turkey
1. Syrian Ballistic and aggressive missile maneuverability
Despite the speculations by military circles on Syrian missile capabilities, which evaluate its capabilities as Libyan missile power or little more than Libya's capabilities, the reality is totally different, since Syria's different position, and its high military capability, along with wide public and military support for the Syrian regime, have imposed great fear on the Syrian enemies, especially on Zionist regime.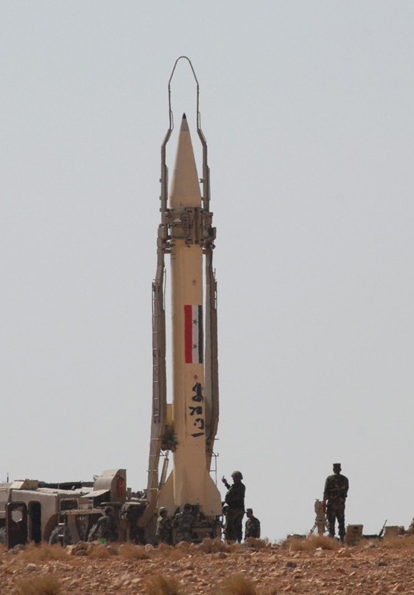 Syrian army missile drills
During recent years, Syria has benefited from vast military help from eastern bloc powers such as China, Russia, North Korea, and Islamic Republic, and unlike Libya, who had only 300 ballistic missiles, Syria has proved a hard target for the enemies with having large numbers of Cruise and Ballistic missiles.
According to reports on 2003, Syria has hundreds of Iskander SRBM ss-21 and Scud short-range tactical Ballistic missiles in its arsenal, capable of targeting much of Occupied Territories, and American military bases in Turkey and Jordan, and it is believed that most of these missiles are armed with nuclear heads. In April 13 2007, Jerusalem Post reported that Syria had deployed its Scud missiles with 300km range on Golan Heights.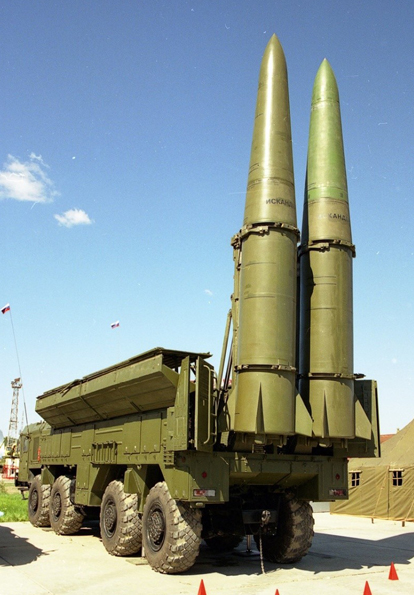 Launching new generation of Iskander missiles
In recent days, Russia has exported new generation of its Iskander missiles after the deployment of Patriot missile system in Turkish soil, to Syria, to keep the military power balance in the region for Syria. Since Iskander is an extremely rapid surface-to-surface missile, no single anti-missile radar systems can track it. It enjoys a speed of 2100m/s, ranking below the new generation of Shabab missiles with 2800km range and 5600m/s in final phase.
So, in military grounds, Turkey's Patriots would not stand Syrian Scud missiles, and it would not stand even Damascus' Iskanders either.
2. Air launching method and strategy
Syria has shown air launching strategy for ballistic missiles in its recent military-missile drills. Syrian Army is indebted to its military partners- Iran and Russia- the air launching strategy, which Iran displayed in its Persian Gulf Missile Launching Drills when launching Shahab missile. Russia has also applied the strategy during its Iskander missile drills in its military grounds in more advanced method, which was evident in Syria's last missile drill.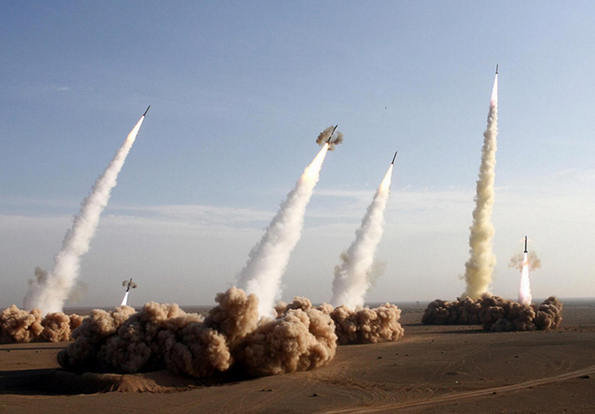 Simultaneous launching of Shahab different generations
Multiple firing of Ballistic missiles leads to confusion in the estimation power of the anti-missile system in locating and estimating of the number of fired missiles, and this leads to ballistic missiles hitting the intended target.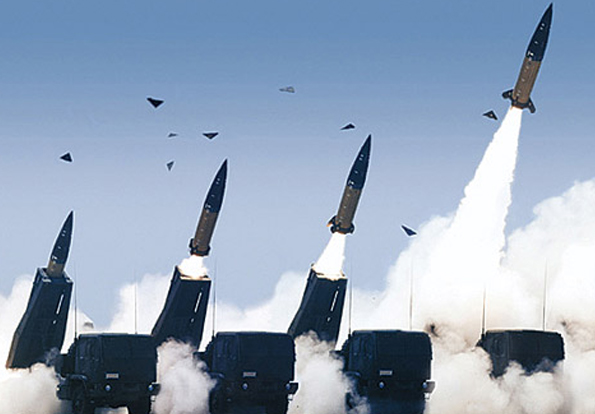 Iskander Multiple firing
This fact has been proved in firing Iranian Fajr-5 missile by Gazan fighters, when firing 8 missiles confused the more advanced anti-missile system 'Iron Dome'.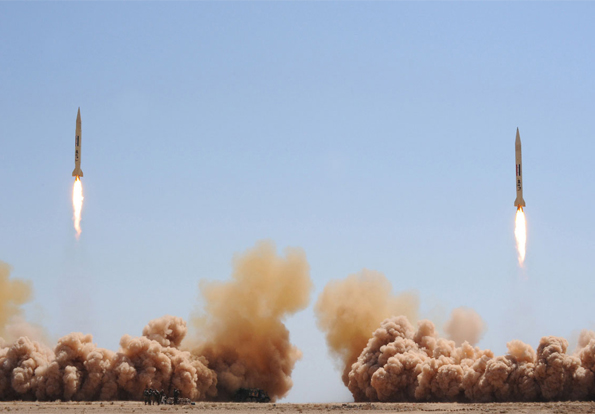 Syrian multiple firing in Golan Heights
3. Internal pressures by students and religious people of Turkey; destroying Erdugan
Foreign military bases in countries, especially in eastern Asian countries, have left bad feelings on the people of the countries. As predicted, Turkish Muslim people and educated communities, especially students rallied in the streets against such possibilities.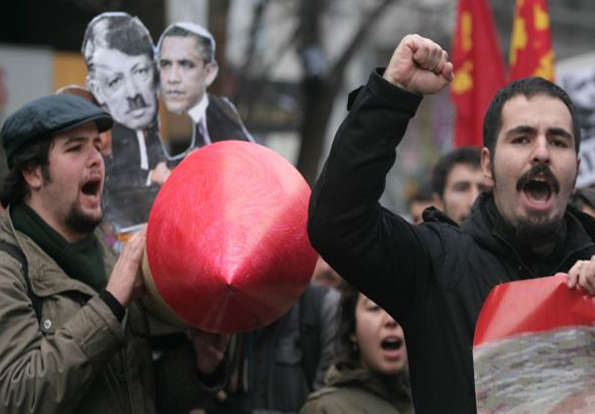 Turkish people march in thousands against Patriot anti-missile system
Students of the Middle East Technical University protested against Turkish Prime Minister Recep Tayyip Erdogan for attending the University. A protesting student recited a statement by the protesters which read: "Turkish nationalist students will not remain silent against the imperialist invasion of Syria." They set fire NATO flag as showing their defiance to deployment of NATO missiles in Turkish soil.
Popular and student rallies against this anti-missile scheme ended with slogans against Erdugan and his ruling party.
4. Turkish-Syrian long borders, and possible targeting of Jordan, Qatar, etc, in the case of a military strike
Turkey has a 900km border with Syria. This long border needs tens of Patriot fire machines for protection. The costs of deployment of NATO anti-missile system and firing is high, and do not guarantee the full protection for the host country.
Half of Turkey's borders with Syria include Adana, Kahraman Marash, and Gaziantep, where Patriot system has been deployed.
Concluding remarks
Four reasons of Syrian offensive missile arsenal, the firing strategy, pressures by Turkish students and people, and long borders with Syria and coverage of half of this long border by anti-missile system has only had expenses for Turkey.