Lebanon
Fragile Truce in Lebanon's Tripoli, Army Units Deploy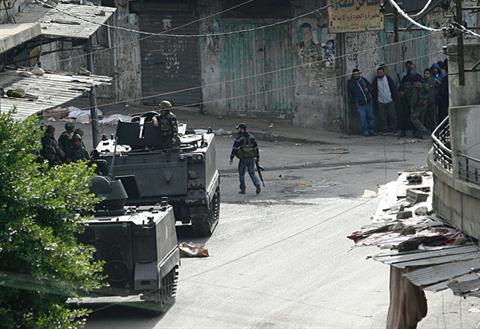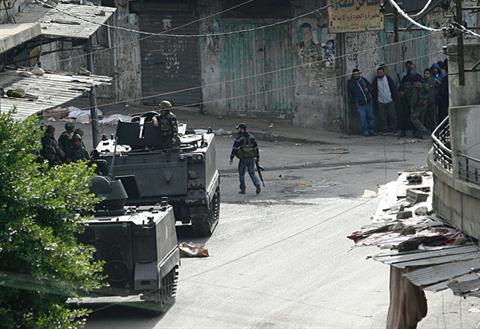 Backed by tanks and armored vehicles, the Lebanese Army deployed its units out in Tripoli's warring neighborhoods Friday after a fragile truce halted four days of clashes that left 13 dead and dozens wounded.
In a statement Friday, the LA called on residents of Tripoli to report any suspicious activity in tense areas.
"Out of its desire to save lives, and to stop those who tamper with security by opening fire intermittently and hiding in residential areas from using people as human shields, the Army command calls on residents of tense areas to fully cooperate with the Army and immediately inform it about any armed or suspicious activity," it said.
The LA said it is continuing its measures to restore security in Bab al-Tabbaneh and Jabal Mohsen and had arrested several people Thursday on suspicion of opening fire, confiscating weapons and ammunition.
The statement said that seven soldiers suffered minor wounds from sniper fire Thursday.
Despite this relative calm, gunmen exchanged fire in the early evening and two hand grenades were tossed at Syria Street, which separates Jabal Mohsen and Bab al-Tabbaneh.
This round of violence erupted Monday after news a group of Lebanese Salafist fighters from Tripoli were ambushed by Syrian soldiers in Syria's Tal Kalakh as they were to join Syria's rebels.
Most shops opened in Tripoli and traffic was almost back to normal Friday, but schools and universities remained closed. Some have expressed concern that the truce will collapse once the bodies of the dead Salafist fighters are returned to Lebanon.
Syria's Ambassador to Lebanon Ali Abdel-Karim Ali said earlier in the week that his country will start handing the bodies to Lebanese authorities Saturday, in three rounds over one week.
As the Army spread out across the city, politicians stepped up efforts to contain the situation. Prime Minister Najib Mikati returned to Beirut Thursday evening from an official visit to Italy, canceling a scheduled visit to Nice, France.
Mikati telephoned President Michel Suleiman, who is on an official visit to Greece, to discuss the Tripoli violence and upon their agreement, the Higher Defense Council will convene Sunday at Baabda Palace.
Mikati was also briefed by Army commander Gen. Jean Qahwagi on measures the LA has taken in Tripoli. He met with Internal Security Forces head Maj. Gen. Ashraf Rifi, and later with both Rifi and Interior Minister Marwan Charbel.
Charbel will head to Tripoli Saturday to chair a security meeting.
"The government will continue to take all measures needed to preserve civil peace … but this national mission requires, given the current circumstances, the cooperation of all Lebanese leaders that should rise above … narrow interests … and stop protecting trouble makers," Mikati said.
He further urged Tripoli's people in to resort to wisdom, conscience and national responsibility amid these difficult circumstances. I call on them to prevent the enemies of Lebanon from achieving their goals and to cooperate with the Army and Internal Security Forces to … restore security."
During a meeting at the Grand Serail, Mikati tasked Maj. Gen. Abbas Ibrahim, the head of General Security, with following up on the process of retrieving the bodies of the Salafists killed in Syria.