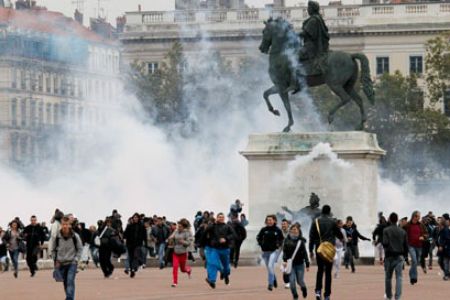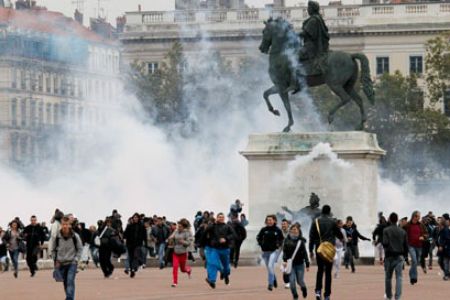 Since the start of the week, French police have arrested close to 1,200 demonstrators protesting the French government's proposed pension reforms.
The government's interior ministry said that a total of 1,158 protesters have been arrested, 163 of them on Tuesday morning, AFP reported.
Police in Lyon arrested 56 people on Tuesday, including nine youths who reportedly overturned cars and set one on fire.
The Guardian reported that four policeman and one protester suffered minor injuries during the incident, and that the worst clashes occurred in the Paris suburb of Nanterre.
The General Confederation of Labour Union (CGT), which is calling for another day of action on Wednesday, says at least 3.5 million people have participated in the national strikes on Tuesday, while government and police figures put the numbers at half a million, Reuters reported.
More than 2,600 petrol stations have been shut down nationwide, as more than 47 crude oil and oil product tankers were unable to discharge at the port of Marseille due to striking port workers, Bloomberg said.
President Sarkozy responded to the national unrest following a summit with Russian and German leaders, and said, "In a democracy, everyone can express themselves but you have to do so without violence or excesses."
"I will hold a meeting as soon as I return to Paris to unblock a certain number of situations, because there are people who want to work and who must not be deprived of petrol," said Sarkozy, who was speaking in Deauville at a summit with the leaders of Russia and Germany.
France has been hit by several coordinated strikes in the past two months in opposition to the proposed pension reforms that would increase the minimum retirement age from 60 to 62 and the full state pension age from 65 to 67.
Sarkozy has refused to back down from his pension reform bill, which is expected to pass through parliament by the end of the week.