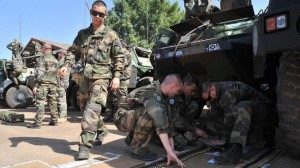 The French military has announced the launch of a "large-scale" operation in Mali in a bid to avert what it refers to as the "resurgence of Islamist organizations."
A spokesman for the French armed forces, Colonel Gilles Jaron, noted on Thursday that "several hundred" French soldiers were involved in the major military effort in the West African nation in the wake of what he claimed as a recent upswing in violence.
According to Jaron, French troops were joined in the operation against "terrorist organizations" in Mali by a contingent of Malian and the United Nations' MINUSMA troops.
"It is the first time we have seen forces of significant size working together," he added.
France began a major military intervention in its former colony in January, expressing concerns about the growing influence of Muslim militants in northern Mali and a rebellion by Tuareg separatists that threatened the French-backed Malian government.
Following a fierce war against the Malian militants, France handed over control of what it refers to as the "peacekeeping mission" to MINUSMA.
However, the European nation still maintains more than 3,000 troops in the impoverished African country.
The development comes as a surge of violence has been reported in Mali in recent months characterized by persistent attacks by militants as well as skirmishes between Malian soldiers and Tuareg separatists.
This is while the UN had reportedly appealed for the deployment of more troops and helicopters in Mali earlier this month to assist with its peacekeeping operations.