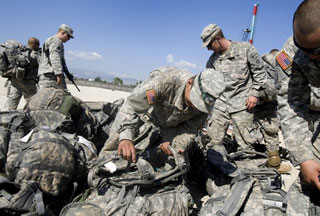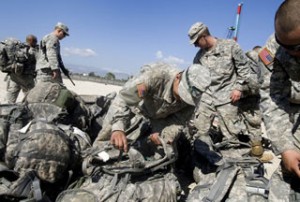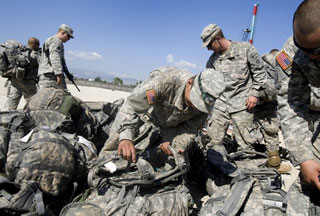 France is demanding the United Nations investigate and clarify the dominant US role in Haiti, after Washington deployed over 10,000 troops to the quake-hit country.
The demand came after US forces turned back a French aid plane carrying a field hospital from the main airport in the Haitian capital.
The Pentagon says it has deployed soldiers in Haiti to help victims of Tuesday's earthquake. This comes as US paratroopers from the 82nd Airborne Division took control of the main airport in the capital Port-au-Prince on Friday.
The move has raised ire among aid agencies with extensive experience of operating in disaster zones.
"This is about helping Haiti, not about occupying Haiti," France's Cooperation Minister Alain Joyandet said in an emergency EU meeting concerning Haiti on Monday.
He added that he expects a UN decision on how governments should work together in Haiti, while demanding a clarification of the United States' role in the Caribbean nation.
Joyandet's remarks echo those made by Venezuela and Nicaragua that expressed "deep concern" over the US deployment of troops in Haiti.
US secretary of state Hillary Clinton whose country is also blamed for not being quick enough to send aid to the quake-hit nation has denied the occupation charges, stressing on Saturday that the White House had no intention of taking power from Haitian officials.
The US has been accused of interfering in Haitian internal affairs in the past.
The US military played a role in the departure of the former President Jean-Bertrand Aristide before his second term was over in early 2004. Aristide has described his departure as a kidnapping.
Last week's 7.0 magnitude earthquake in Haiti is estimated to have left some 200,000 people dead and more than 1.5 million homeless, with at least 70,000 bodies collected from the rubble so far.